Sonim brings its ultra-rugged XP3 flip phone to AT&T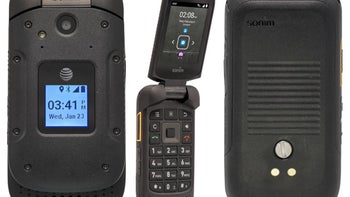 Despite the fact that tech news cover smartphones 99 percent of the time, feature phones are still selling very well in emerging markets. In a world where intelligent phones rule, Sonim's new XP3 flip phone comes to offer customers in the United States the option to buy a basic handset that does away with all those advanced features of a smartphone.
But there's more to Sonim's XP3 handset than simplicity, since this is the first clamshell that's been tested and certified to operate on FirstNet, the US public safety broadband communications safety platform. Basically, it helps first responders to connect to the critical information they need when there's an emergency.
Moreover, the Sonim XP3 is an ultra-rugged flip phone that can withstand extreme conditions. Also, it comes with a Push-to-Talk (PTT) button that allows users to continue to communicate regardless of the work environment.
Sonim XP3 features global LTE support and comes with 3-year warranty that, in theory, should eliminate the cost of device replacement. Specs-wise, the clamshell sports a small 2.6-inch display with Corning Gorilla Glass, a 5-megapixel rear-facing camera, a Qualcomm Snapdragon 212 processor, 1GB RAM, 8GB internal memory (up to 128GB via microSD), and a 1,500 mAh battery.
The new Sonim XP3 ultra-rugged clamshell is now
available for purchase
via AT&T for just $190. It only comes in black color, but that's the only option you'll want for a rugged device anyway.