SoftBank reportedly pulls funding for Andy Rubin's new flagship phone; replacement funds found?
1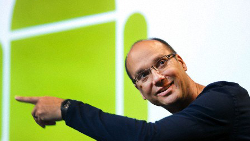 Back in January, the man called "the father of Android,"
Andy Rubin, was rumored to be bringing a new smartphone into the world
. The device was said to be a high-end flagship that would challenge the Apple iPhone and Google Pixel handsets. The phone, which would be released through a Rubin-started firm called Essential Products Inc., is said to carry a bezel-less pressure sensitive screen measuring more than 5.5-inches. It also will support "modular" accessories similar to the Moto Z line.
Just a day later,
a device with the name Essential FIH-PM1 appeared on Geekbench
. Powered by Android 7.0, the device had a Snapdragon 835 chipset under the hood with 4GB of RAM. The unit
scored 1844 on the single-core test and 5426 on the multi-core test
.
While it all sounds good, there is a major problem that could send the development of this promising smartphone to a screeching halt. According to
The Wall Street Journal
, Sprint parent SoftBank has decided to scrap a plan to give Essentials $100 million to help fund the new phone. As part of the financing deal, SoftBank was going to help launch Rubin's phone in Japan. The reason for the change in heart? According to the Wall Street Journal, unnamed sources say that a conflict of interest is behind the decision not to fund the handset.
Apparently, SoftBank CEO Masayoshi Son is about to open a tech oriented investment fund with $100 billion in capital. Apple is planning to invest $1 billion into the fund, and Son felt that with that in mind, it would have created a conflict of interest for SoftBank to help fund a competing smartphone.
But another report claims that the $100 million that is no longer coming from SoftBank, might be raised from a number of deep pocketed investors instead. This report states that Essential is about to close on this round of financing very soon. And that would be very good news for those interested in seeing what kind of high-end hardware the father of Android has dreamed up.
source:
WSJ
(subscription reqd.) via
AndroidAuthority