So long to some classic game emulators in Android Market
3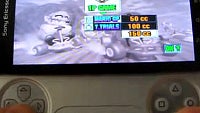 N64oid, Snesoid,
and some other emulators by developer youngzh got pulled from Android Market, without it being clear if the reason is copyright infringement, or the developer's more generic unwillingness to comply with some open-source licensing requirements of Google, which seems to be the pretext.
The emulators have been moved to the SlideME Android app shop, which has long been a lifeboat for those devices that don't have the official Google blessing to run Android, and youngzh has made them free for this time.
With the appearance of the
Sony Ericsson Xperia Play
we were expecting some crusade like that against classic game emulators, which are arguably legal, but the ROMs for them are usually not. In this case, however, it seems that some more generic Android Market terms have been violated to suspend the emulator's developer apps from there.
Hopefully this is not a harbinger of things to come with game emulators on Android, since the
Xperia Play has enough differentiating features of its own
to stand out in the Android crowd. Considering the
recent drama of banning the PSX4Droid emulator
, however, it might be a crusade, after all.
source:
AndroidPolice
Recommended Stories