Smartphones to help you shop smarter in next few years
1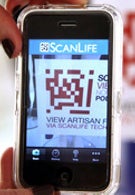 Imagine walking down the street after the stores are all closed, and admiring that dress in the window. Instead of waiting for the doors to open the next morning, you whip out your trusty smartphone, point it at the dress, click and the dress is now yours. A company called ScanLife is making this a reality for stores including a New York City boutique owned by Norma Kamali. Kamali installed ScanLife in her store and those with smartphones running specific apps can scan a bar code and see a video about the product. In 2 weeks, customers will be able to point their phone at an item and click to buy it.
An application from IBM called Presence will zap a coupon for a product you actually use right to your cellphone's display for immediate use. After you sign up for the service, stores using Presence will know as soon as you step foot into a participating a store. The service can also make recommendations on which products to buy, and some retailers can use that to push its private label items. And based on what Presence knows about you, it can use predictive analysis to predict what you want to buy. Some stores want to make apps available that will tell you what aisle the sugar is on, or if the store that you are in still has inventory of that Carpenter's CD that you have been dying for. Cisco's Mobile Concierge system allows your phone to hook into a store's network to allow this kind of functionality. According to a story in the New York Times, stores like the Sam's Club division of Walmart, Disney and Crate and Barrel have been working on ways to combine the immediacy of smartphone communications with your shopping needs. A few stores are planning limited deployment this year with more widespread operations starting in 2011 or 2012.
Motorola has a program that shifts shopper's loyalty programs from plastic cards onto cellphones. The company expects 10 to 20 retailers to be online by the end of this year. Retailers have also been working hard on improving their web sites. And some stores see using the smartphone's scanner as an easy way to add items to gift registries. But even with all of these functions, shoppers are using sites like RedLaser which look for the cheapest place to buy an object. Even with all of the money retailers put into improving the shopping experience for smartphone users, the same technology can boomerang against them.
source:
NYTimes