Skype will be preloaded on Windows 8.1 and get prime Start screen real estate
10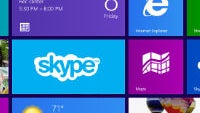 Yesterday, we found out exactly when the
Windows 8.1 update
would be making its way out to users, and today we're getting an interesting new piece of information on the update. Skype has announced that it will officially be baked into Windows in the new update, and it will be getting prime placement on the Start screen on all devices.
Skype has been slowly getting more and more integrated with Microsoft products as Microsoft's old Messenger app has been faded out. With Windows 8.1, Messenger will officially be replaced and Skype will become the default messenger app for the platform. And, as the default messenger app, it will be placed front-and-center on the Start screen, so users know they don't have to download it.
Skype didn't go into detail on if the app would be more deeply integrated with other apps, but we certainly wouldn't be surprised. The Windows 8.1 update will be pushed out starting October 17th, and will be available in retail on October 18th.