Siemens Launches The Groundbreaking SX1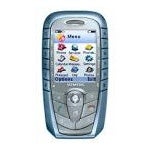 Siemens today announced its next generation mobile phone, the SX1, at the 3GSM World Congress 2003 in Cannes. SX1 has strips of keys built in to each side of the phone, instead of an ordinary keypad. This design decision shifts the large, 65K color high-resolution screen into the center of the device without compromising overall size. Embedded underneath the screen are central navigation keys. The device wighs only 4oz.
SX1 features a built-in video player, camcorder, music player and FM radio; rich unlimited gaming supported by Series60 or Java (J2ME); full set of business applications directly comparable to a normal PDA, including local and wireless sync. By combining the latest entertainment and business technology, the SX1 is perfect for those who 'work hard, play harder'.
Built on the open-source Symbian platform, the SX1 features a tailored Siemens mobile version of the Series 60 interface and application platform, which will enable users to personalize their experience with downloadable content and applications.