Shazam update adds Dark Mode support, new multi-touch gesture for iOS 13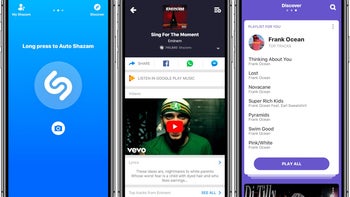 With
iOS 13 just around the corner
, many devs are in the middle of updating their apps with a dark theme and other improvements that would not be possible without the new version of the platform. It makes perfect sense that Apple would be among the first to provide these changes to iOS users, so Shazam's most recent update is far from being a surprise.
So, if you're ready for iOS 13, which should be deployed later today, know that Shazam is ready for the update as well. A new version of the app was released yesterday in the
App Store
, which adds the highly-anticipated Dark Mode.
Furthermore, there's a new multi-touch gesture available for devices that run iOS 13. Simply long press on any track across the app to quickly add it to your favorite streaming app or share it with friends.
Also, whenever you want to quickly select a list of tracks to add to a playlist, you can now place two fingers anywhere in a list of tracks and swipe down to multiselect.
Even if you don't have iOS 13 on your iPhone, you can still update your
Shazam app
and the new features should be available once the new version of the OS arrives.