Seven paid iOS apps are yours free, for the taking
6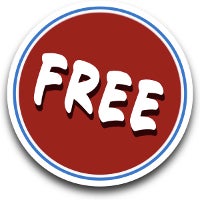 Whether today is your birthday or not, we have a present for you. Below you will find paid apps for your Apple iPhone or Apple iPad that are free for a limited time. Normally these apps would cost you $18. Now, you can download these apps for free and use the $18 for a banquet at McDonald's. And if you own an
Apple iPhone 6
,
you can use Apple Pay
.
But we digress. Let's start with the first of the seven free apps.
Draw Pad Pro
is usually $2.99 and is an app that allows you to take notes in various ways. Sketch, scribble, and take detailed notes. However you get ideas to flow from brain to paper, you can use this app instead. Keep in mind that you will need iOS 8 or later to download this app. Looking for a puzzle game to play? Try
Brain Chain
. Normally 99 cents, the rules of this game are simple. Two words that rhyme are shown in graphic form, and you have to guess what one of the words is. Sounds like fun, and for free you can't beat the price.
A big chunk of the $18 you will save comes from
1Key Pro
. Free for a limited time, the app is usually $4.99 and stores all of your passwords, credit card numbers, PINs, back accounts and more. 1Key uses 256bit AES encryption to make sure that your important information is secure. Next up is
PhotosPro
. Download the app now, and save $1.99. The app allows you to browse through your pictures quickly. You can look for photos and videos by date. With the app, you can get EXIF and meta information from your photos and videos, including geolocation data. And if you like to tell stories, PhotosPro can help you rearrange your photographs to help you put together a tale.
Looking for a Swype-styled QWERTY for your iDevice? Try
Path Input
. A few days ago, it was $3.99. Today, it is free. If you're familiar with the Swype styled input method, you will understand how Path Input works by swiping your finger across the keyboard to spell words. The app supports 26 languages. So what is
Pause-enabled camera
? This is an app that allows you to pause a video that you're shooting, and helps you to send your videos to social networks like Twitter, Tumblr,. G+ and more. Finally,
iExpense Diary+
keeps track of your daily spending. Normally $1.99, this app will not only keep track of your budget, it will also show your finances in chart form.
As usual, we have no idea when the apps will return to their regular pricing. If you have interest in downloading any of these seven apps, you best be doing it now.
source:
DrawPadPro
,
PathInput
,
Pause-enabled camera
,
iExpense
,
1KeyPro
,
PhotosPro
,
BrainChain
via
BGR