Watch Apple Pay used at Mickey D's fine eating establishment
25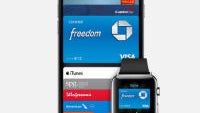 Yes it is true.
iOS 8.1 has been released
, which means that Apple Pay is here. Despite the magic of the Apple name, not every store, eatery and entertainment mecca will accept Apple's iOS based mobile payment service. One place where you can find it in use, is at participating McDonald's. Simply select which card to use from Passbook and tap the special POS Pad with your phone. Press the Touch ID button to verify your identity.
In addition, Major League Baseball announced on Monday that Apple Pay and other NFC supported mobile payment services can be used by fans to pay for food and drink during the 2014 World Series between the Kansas City Ro
y
als and the San Francisco Giants. The two respective ballparks, Kauffman Stadium and AT&T Park, will be the first professional sports stadiums to accept Apple Pay when game one of the Series takes place on Tuesday. Next year, baseball fans will be able to use Apple Pay to purchase single-game tickets using the
At the Ballpark
app. Once you're
at the ballpark, you can upgrade your seats using the mobile payment service.



Now that Apple Pay is here, we could see more people using the mobile payment service available on their phone. Verizon, T-Mobile and AT&T have their own service, called Softcard. Originally called ISIS,
the three carriers changed its name for obvious reasons
. By the way, iPad users can also use Apple Pay. But because the tablets do not have NFC connectivity, the mobile pay feature can be used for online payments only.
source:
RedmondPie
,
lumbjoh
,
Forbes