Sense 4.0 for Android ICS in the works, HTC quad-core devices with it to battle ones from Samsung and Asus
33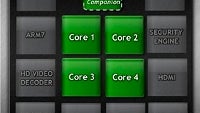 HTC, Samsung, Asus, Acer and Lenovo are all coming with quad-core devices, say "industry sources", so as much as 2011 was the year of the dual-cores, 2012 is to be the year of the quads... and calves, in the wrestling match for mobile domination.
Some of the stuff we've heard about HTC's quad-cores got reiterated, and with new juicy details, which only make common sense. All quads from the Taiwanese are said to feature Beats Audio, as any high-end from HTC will from now on, apparently. They are also to
have HTC Sense 4.0 onboard
, and we can't wait to see what magic the company has done with the most complex Android UI overlay, now that Ice Cream Sandwich is quite different from the previous stock Android interfaces.
As for the expected gear - the rumored
HTC Quattro
tablet is to arrive in March, have "3.5G" connectivity, and feature the Scribe technology for writing on the screen we've come to know from HTC's first tablet foray.
Two handsets we heard about before are supposedly in store as well - HTC Sense 4.0 on them includes HTC Watch, Read, Listen and Play multimedia services, as well as the Dropbox cloud storage one that offers 5GB for free for any HTC gear owner. The
HTC Edge
sounds like a quad-core version of the
Sensation XL
or the
Titan
, since it will feature a 4.7" screen and 8MP camera, but be powered by a Tegra 3 1.5GHz chip. This one is said to come with 32GB of storage.
The
HTC Zeta
seems to be hard-hitting also, with a quad-core
Qualcomm Snapdragon S4
running at up to 2.5GHz, sporting a 4.5" display, likely of HD resolution, as on the
Rezound
, and an 8MP camera too.
There you have it, right when you were sold on the best dual-cores at the moment, it turns out that
in a few more months the quads are coming
, exacerbating the Indecision 2012 moment.
source:
Digitimes