Qualcomm Snapdragon S4 white papers released: a look at the first 28nm chips
14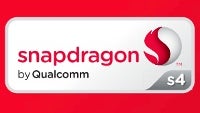 Qualcomm making the Snapdragon system-on-a-chip might have lost some traction after Tegra 2 beat it to the dual-core game and ended up on the majority of high-end phones with two cores, but now it has unveiled the details surrounding its Snapdragon S4 SoC, and it packs quite a muscle.
Probably the biggest novelty in the S4 is the technology used to produce it. The new SoC is manufactured using
28nm process technology
, a big improvement compared with the 45nm used in the S3. This allows Qualcomm to stuff more and smaller transistors on the chip, while making power consumption lower in part due to the lower temperatures it can keep.
Actually, except for rival Texas Instruments, Qualcomm is the only company to have announced a new microarchitecture coming soon. The biggest competitor NVIDIA for example is pushing for four cores and clock speed, but it's lagging behind when it comes to technology generations, and that seems to be the big swing factor.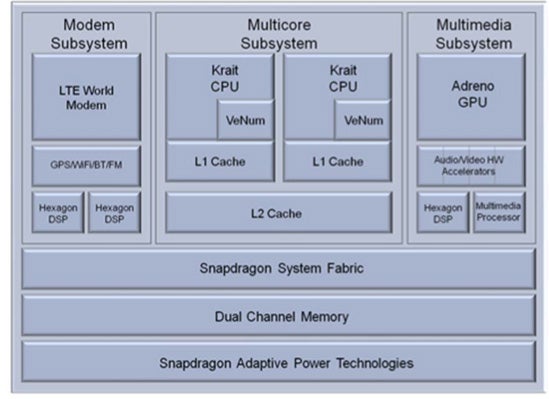 The application processor in the S4 is
Krait
, which promises a 60% increase in speeds over the familiar Scorpion CPU. Krait will support clock speeds ranging from 1.5GHz to 2.5GHz, but it will also play nice with dual-channel memory and will support asynchronous multiprocessing. The new processor is expected to be build, based on ARM's Cortex-A9 architecture, but since Qualcomm has a license, it can customize the chip offering some improvements in power efficiency and the actual performance.
The graphical processor in the S4 SoC is
Adreno 225
. Compared with the previous-gen Adreno 220 GPU, it will deliver an improvement of 50%. The Adreno 225 supports DirectX 9.3, OpenGL ES 1.1 and 2.0, which should open the way to some drool-worthy graphics.
But it's the
multi-mode
support of the new S4 family that truly excites us. Qualcomm claims that it has cramped up support for all major frequencies in the 700MHz to 2600MHz range. The S4 SoC will deliver the standard GSM, GPRS and EDGE, but most notably LTE with speeds up to 100Mbps, HSPA+ with up to 42Mbps downloads and EV-DO Rev. B, 1x Advanced, TD-SCDMA (for China).
The spec sheet lists NFC support, but also GPS and GLONASS chips for navigation, and if you wonder what the latter is - so is the majority of the world, as the Russian satellite system is still in its infancy and is rarely (if ever) seen on mainstream devices.
The new SoC is expected to arrive in the
first half of 2012
. How does that new S4 Snappy Dragon look to you? It will possibly be the first to 28nm SoC to ship, but will this be enough to give it an edge over the upcoming Tegra 3?