Sennheiser shows three new wireless earphone models at CES
2

Fun fact: there's a pair of earphones that cost around $55,000. They're constructed of the finest quality materials, they boast outstanding technical specifications, and they even come with their own tube amplifier built into a housing made of solid marble. That's the Sennheiser HE 1, which was on display at CES 2016.
The headphones shown by the premium brand at this year's CES aren't as fancy, but they're still worth your attention. Among them is the Sennheiser HD 1 In-Ear Wireless, which is part of the company's Momentum lineup. In other words, these are earphones made to look at least as good as they sound. And knowing Sennheiser, they probably sound really, really good.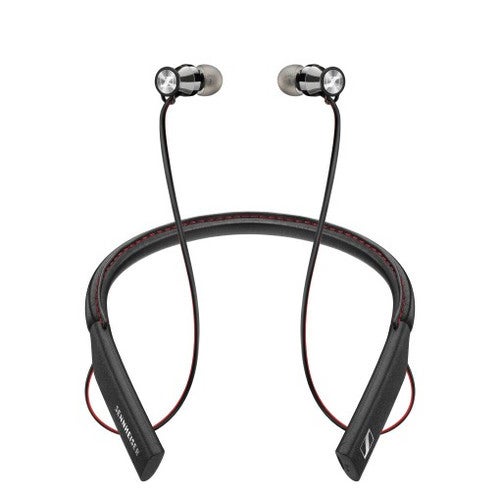 The Sennheiser HD 1 In-Ear Wireless earphones
In terms of design, the Sennheiser HD 1 In-Ears are comprised of a band that wraps around the user's neck, with the earbuds hanging from both ends. The neckband is covered in sheepskin leather, with a red stitching along the edges added for contrast. As for the buds, they're made of stainless steel, and four sets of eartips are included in the set for optimum comfort.
On the technical side of things, the HD 1 In-Ear Wireless earphones support Bluetooth 4.1, as well as the AAC and Apt-X codecs for superior wireless sound when paired with compatible devices. The integrated microphone lets you pick up phone calls, and a vibrating alert lets you know when someone's calling. Battery life is rated at 10 hours per charge.
The Sennheiser HD 1 In-Ear Wireless will go on sale this month. Pricing hasn't been specified yet, but we don't think they'll be cheap.
Need something with a bit more punch? The Sennheiser HD 4.40BT and 4.50BTNC should do the trick. These are the company's latest wireless closed-back, around-the-ear headphones designed for everyday listening pleasure. The key difference between the two models is that the 4.50BTNC supports active noise cancellation (Sennheiser's NoiseGard technology), which works in tandem with built-in microphones to neutralize ambient noise. It is also worth mentioning this particular model's foldable design, which makes it easier to carry around – on transatlantic trips, for example.
That aside, both the Sennheiser HD 4.40BT and HD 4.50BTNC support Bluetooth 4.0 and Apt-X. Both have 32-millimeter drivers, NFC for easy pairing, control buttons for hassle-free music control, and a built-in microphone for making phone calls. Battery life of up to 25 hours can be expected, although you can go battery-free if you choose to connect your pair directly to your mobile device. A detachable cable with 3.5mm jack is provided in the set.
Sennheiser is launching the HD 4.40BT this month at a price of $150. The noise-cancelling Sennheiser HD 4.50BTNC will launch in February for $200.
SENNHEISER'S EVERYDAY AUDIO HEROES ARE NOW WIRELESS
At CES 2017, Sennheiser is launching the HD 4.50BTNC and HD 4.40BT – two new wireless headsets for brilliant, everyday listening pleasure. The first Bluetooth models in the audio specialist's popular HD 4 series combine high-quality Sennheiser sound with the freedom of wireless listening in a robust, affordable headphone. The HD 4.50BTNC additionally features Sennheiser's NoiseGard™ active noise cancellation for a listening experience free from any distractions.
The closed back, around-ear headphones have been created to be perfect everyday companions for wireless listening on the move. "The HD 4.50BTNC and HD 4.40BT are designed for always-on, always-connected customers for whom the enjoyment of media and music can be part of every day and every hour," explains Ivan Kuan, Head of Portfolio Management Lifestyle at Sennheiser.

Thanks to Sennheiser's NoiseGardTM active noise cancellation technology, users can enjoy music without any distractions with the HD 4.50BTNC: By intelligently filtering out ambient noise, this system lets the detailed acoustic response of the proprietary Sennheiser 32mm drivers shine.

Both HD 4.50BTNC and HD 4.40BT employ the advanced wireless technology and audio codec of Bluetooth 4.0 and aptX to deliver true wireless Hi-Fi sound. Alongside great performance, the new headsets offer ease of use, comfort and convenience. They feature NFC for simple pairing with compatible devices and intuitive ear-cup mounted controls for changing tracks and for making calls via the integrated microphone. Wearing comfort is assured by their ergonomically designed ear pads.

HD 4.50BTNC and HD 4.40BT feature excellent battery life, letting listeners enjoy wireless sound for up to 25 hours. With ANC enabled, the HD 4.50BTNC still allows for up to 19 hours of wireless, distraction-free listening. A battery-free listening mode is also possible via a supplied detachable cable.

Elegant and minimalistic, the new wireless headphones have been crafted from durable materials that make them tough enough to be everyday audio companions. With their collapsible design, the HD 4.50BTNC and HD 4.40BT fold away compactly. For easy storage, the HD 4.50BTNC comes with a protective case, while the HD 4.40BT can be stored in the supplied soft pouch.

The new HD 4.40BT will be available from January 2017, while the HD 4.50BTNC will be available from February.

CES 2017 is held in Las Vegas from January 5-8. To experience and learn more about HD 4.50BTNC, HD 4.40BT and other new products, visit Sennheiser in South Hall 1, Booth 20606.
SENNHEISER DEBUTS HD1 IN-EAR WIRELESS – THE HEADPHONE WITH MOMENTUM
The ultimate in style, sound performance and take-anywhere mobility
Sennheiser's HD1 headphone range represents the perfect fusion of sound and style: Uncompromised sound performance meets minimalist design and carefully selected materials. At CES 2017, held in Las Vegas from January 5 to 8, the audio specialist goes one step further by unveiling the new HD1 In-Ear Wireless. Combining a leading-edge acoustic design with Bluetooth 4.1, AAC codec support and Qualcomm® apt-X™, the new neckband headphone has been designed to enhance the experience of listening to music on mobile devices – for the ultimate portable HD1 experience.
Uncompromising sound quality, progressive technology and high-quality materials in a minimalist design: Sennheiser redefined the world of headphones with its HD1 range – a series of headphones with MOMENTUM. In the creation of these iconic headphones, the audio specialist was inspired by people who follow their vision, striving for the new and pushing the world ahead. With the HD1 In-Ear Wireless, Sennheiser now adds ear-canal headphones with Bluetooth connectivity to the acclaimed range.
"HD1 headphones are inspired by people that push boundaries and refuse to compromise in fulfilling their ambition," said Dr. Christian Ern, Head of Portfolio Management Audiophile at Sennheiser. "With the new HD1 In-Ear Wireless, we are bringing this ethos to a compact Bluetooth neckband headphone."
Elegant in every detail, the HD1 In-Ear Wireless has been designed for an uncompromised experience. Its stainless steel in-ear sound tunnels have been custom machined to deliver superior acoustic precision: This high quality dynamic speaker system brings the signature HD1 sound to a compact in-ear headphone, with a powerful bass response, detailed vocal projection and a great sound stage. Thanks to Bluetooth 4.1, AAC codec support, and Qualcomm® apt-X™ compatibility, this true hi-fi sound is delivered with crystal-clear wireless transmission.
AN ELEGANT COMPANION TO MOBILE DEVICES
With a great 10-hour battery life, the HD1 In-Ear Wireless can be enjoyed throughout the day. An integrated three-button remote and high-quality microphone are incorporated into the neckband, making it easy to stay connected and make phone calls and control music on the go. HD1 In-Ear Wireless supports convenient multi-connection with up to 2 devices at once, with 3-way calling support. Ease of use is further enhanced by NFC one-touch Bluetooth pairing with smart devices, an intuitive system of voice prompts to notify of pairing status and to provide battery life warnings, a vibration alert for incoming calls and support of USB audio with USB charging.
Like all HD1 headphones, the HD1 In-Ear Wireless represents a perfect marriage of style and substance, with high-quality materials, superb comfort and lasting durability. The ergonomic around-the-neck design and soft sheepskin nappa leather stitched onto the neckband offer all-day listening comfort. Ear adapters in four different sizes are provided for optimized fit in the ear canals to allow excellent attenuation of ambient noise. Meanwhile, premium materials such as stainless steel, the mirrored chrome finish, and tough, impact-resistant polycarbonate give the HD1 In Ear Wireless the strength for a life on the move.
Sennheiser's HD1 In-Ear Wireless will be available from January 2017.
Recommended Stories