Seidio OBEX Waterproof Samsung Galaxy S III Case hands-on
5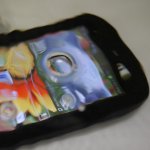 Brushing our hands across the plastic polycarbonate body of the beloved
Samsung Galaxy S III
, there's no denying it has a very natural and slick feel. On the other hand, though, we can only imagine what kind of damage it'll incur if we were to drop it onto the hard pavement. Worse yet, the unspeakable damage that occurs if it somehow plunges into a deep puddle of water – accidentally of course! Combating those unlucky events, among others too, there's the
Seidio OBEX Waterproof Samsung Galaxy S III Case
, which aims to protect and shield the renowned smartphone from nearly all accidents.
First and foremost, we have to admit that there is some serious work needed in getting the smartphone to fit into the case. In fact, you'll need a coin of some sort to pry apart the two pieces that make up the case. Once it's fitted, the handset is completely guarded from the outside world – thus, giving it the
durability and ruggedness
needed to combat some of our everyday misfortunes. At the same time, though, the sleek looking handset is transformed into one
hefty
looking fella that's more than oversized to our liking. With the added size and weight, it's definitely something that prominently protrudes from our pockets. However, the more you think about it, the compromise is made there to soundly protect it.
Featuring
military standard 810G
, the case protects the handset from
6-foot drops at multiple angles
– meaning, if you drop it onto the concrete sidewalk by accident, it's certain to survive. Concurrently, the Seidio OBEX case meets the
IP68
criterion to protect it from splashes and water submersion. So much so, it's noted as being protected from complete submersion for
30 minutes in up to 1 meter of water
. Of course, with the aid of the o-ring around the outline of the inner case and its covers for the microUSB port and headset jack, we're able to witness for ourselves its waterproof aspect.
If you can somehow overlook the beastly look of the handset with the case on, you'll certainly appreciate the impenetrable aspect of the Seidio OBEX Waterproof Samsung Galaxy S III Case. Needless to say, you get peace of mind with this
$80
accessory.