See what happens when the Galaxy S6 edge's camera is pitted against the iPhone 6 Plus' shooter
88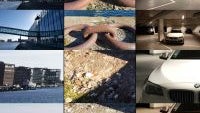 Already, the first camera shootouts between Samsung's new flagships, the Galaxy S6 and S6 edge, and their rivals are cropping up on the web, giving us a glimpse into how it handles some tough competition. We've come to recognize Apple's iPhone 6 Plus as one of the best pocket cameras available on the market today, and it was the 6 Plus precisely that
Mobilsiden
chose to be challenged by the Galaxy S6 edge.
While the test wasn't as thorough as we'd like it to be, the folks behind it nevertheless made sure to cover the basics – like outdoor and low-lit scenes. Unfortunately, full-sized reference samples aren't provided, so we have to make do with thumbnails. A video sample from the two was also included, though that's probably one area in which the S6 edge's more megapixel-rich shooter has a very clear advantage, seeing as it does 4K UHD and the iPhone 6 Plus is limited to 1080p.
Check out the results right below and make sure to let us know what you thought.
iPhone 6 Plus video sample (1080p):
Samsung Galaxy S6 edge video sample (4K UHD):