Samsung's ad blitz continues, shows off instant picture sharing on the GS3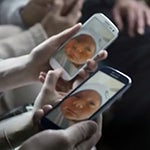 Now that Samsung's Galaxy S III has launched is almost every major market (even a few Verizon units have
shipped early
, and "stragglers" will get theirs in the next four days), the ad campaign is in full swing. With Samsung sponsoring the Summer Games explicitly to help promote their latest flagship, you can bet that we'll be seeing a lot more ads coming down the turnpike.
The newest one is a 30 second TV spot, and it shows off how useful the Share Shot instant photo sharing can be between Galaxy S III devices. Of course we could point out that this feature would be even more useful if it worked with other Android devices (or multiple OSes!) but unfortunately Samsung seems to have doubled down on making proprietary features on the latest Galaxy S model.
Regardless, the ad below makes its case good-naturedly, and certainly we can all agree that instant social image sharing is the bee's knees in many situations.
Enjoy: