Samsung One UI 3 release date is today: find out what's new
12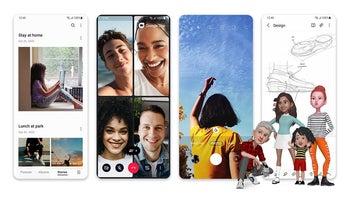 Samsung
has been testing its One UI 3 software for the past few months, but now the time has come to make things official. The launch of the new user interface was officially announced today by the Korean company. The update brings a new design, enhanced everyday features and deep customization to millions of Galaxy devices.
Which Galaxy phones will get One UI 3 and when?
Following the early access beta program, One UI 3 will begin rolling out
today
to
Galaxy S20
series phones (
Galaxy S20, S20+
, and
S20 Ultra
) in Korea, the US and most markets in Europe. Next in line are the
Galaxy Note20, Z Fold2, Z Flip, Note10, Fold
and
S10
series, while
Galaxy A
devices should start getting the update in the first half of 2021.
"The launch of One UI 3 is just the beginning of our commitment to offering Galaxy consumers the best mobile experiences possible by giving them access to the latest OS innovation, as soon as it's available,"
said Dr. TM Roh, President and Head of Mobile Communications Business, Samsung Electronics.
One UI 3 looks and feels different

One UI 3.0 brings visual changes to the interface that aim to help people navigate and access important information hassle-free. Samsung has made some changes to the home screen, lock screen, notifications and Quick Panel, adding new visual effects that highlight various parts of the interface. Motion effects and animation have been improved - the Lock screen fade-out effect now looks cleaner, while toggles slide more smoothly to give a more realistic feel.
Enhanced Lock screen widgets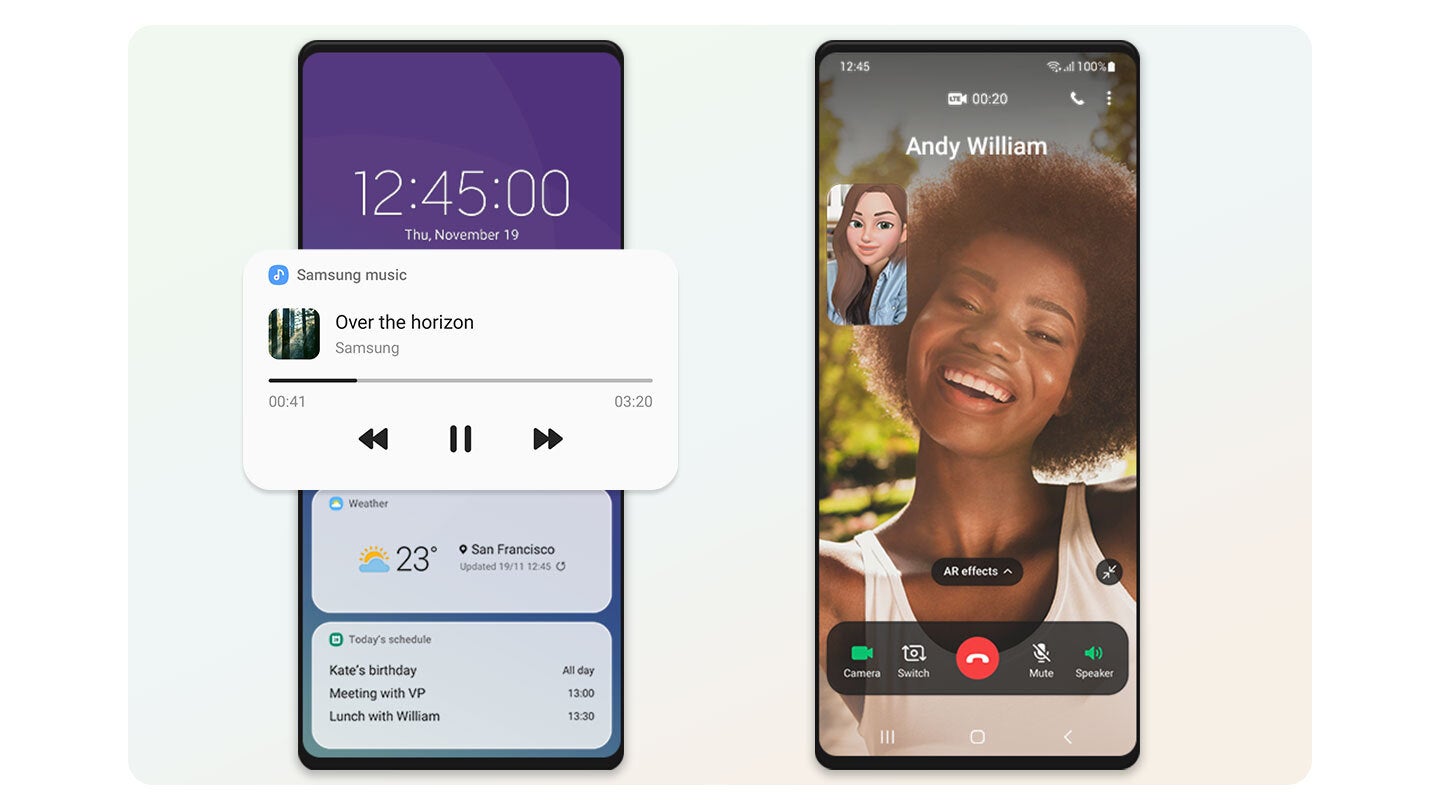 One UI 3 comes with redesigned Lock screen widgets that help you control music, and see important information, like calendar events and routines, without having to unlock your phone. Messages and conversations look different too - they're now grouped to provide more intuitive feel and help users quickly read and type responses. There's a new edge-to-edge full screen video call layout that further enhances immersion during calls.
The new update brings some improvements to the camera app as well. The AI-based zoom on photos has been improved, along with the autofocus and auto-exposure features for even better results when taking photos in auto. The Gallery app now features categories to help organize photos, and there's a cool option that allows users to revert edited photos to the original, even after saving the edits.
Quick Panel and widgets customization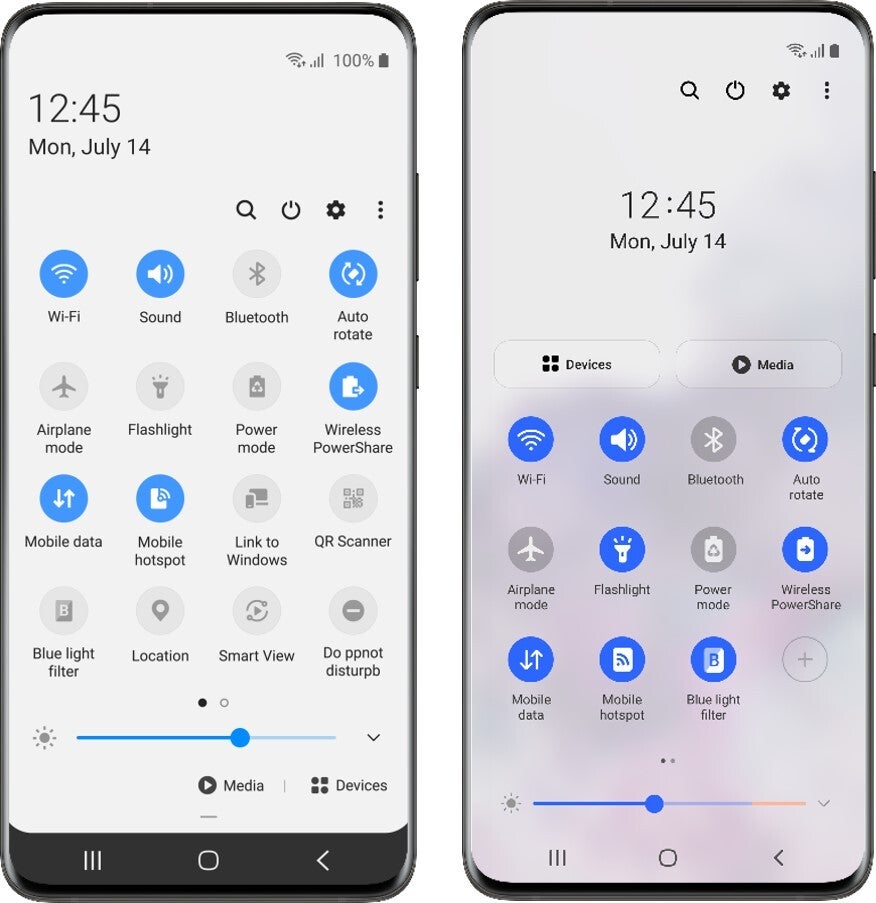 The Quick Panel has been redesigned to allow for better customization - rearranging different elements and picking the ones you use more often is easier now. Samsung has made some changes to the share sheet too - it's customizable and people can easily pin the most-commonly used share apps and destinations for quick access.
The personalization goes even deeper - users can now adjust the transparency of Home screen widgets and change the design and color of the clock on the Always On Display or Lock screen. There's the option to add a custom video to the incoming/outgoing call screen in order to further personalize the experience.
Keep track on your smartphone habits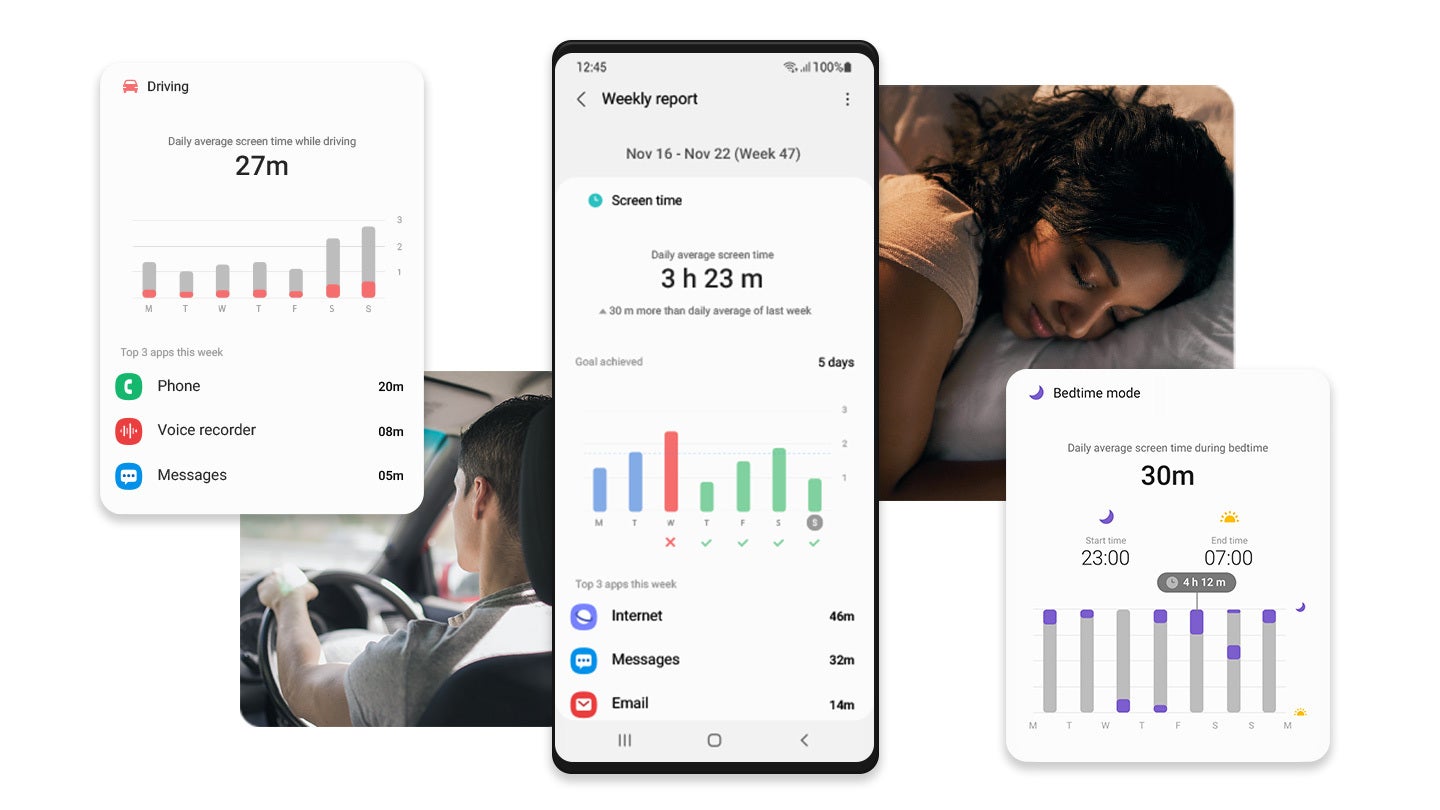 Nowadays, we tend to overuse our gadgets and this can quickly form a habit. The One UI 3 update comes with new digital wellbeing applications that will help users tackle the issue. Along with the usual screen-on time information, now you can even check how much time you spend on your Galaxy device while driving, which is really helpful. You will also be able to check your screen on time before bedtime and adjust your habits to get enough rest.