Samsung takes aim at iPhone 6's camera, suggests the Galaxy S6 camera is way better in low light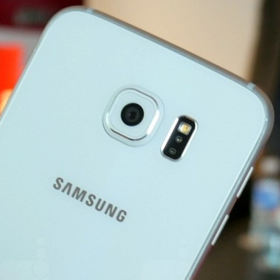 Samsung today announced the
Galaxy S6
and
Galaxy S6 edge
, its newest flagship smartphones that pack all the latest tech that Samsung is currently capable of offering. During the Galaxy S6 announcement event (held at MWC 2015 in Barcelona), Samsung suggested that the rear camera of the S6 and S6
edge
takes better photos than the camera of Apple's
iPhone 6
.
The first image that we're seeing below was presented by Samsung to let us compare a low light photo snapped with an
iPhone 6
, and a photo taken in exactly the same scenario with a Galaxy S6. As you can see, the S6's camera produced an image that's significantly brighter (and, overall, seems to look way better). Of course, we'll have to wait until we can thoroughly test Samsung's new camera in real life before concluding if it is, or isn't better than the camera that Apple has packed inside the iPhone 6.
The specs sheet of the Galaxy S6's rear camera includes the following: 16 MP sensor, f/1.9 aperture, Smart Optical Image Stabilization, real-time HDR, and LED flash. As for the front-facing camera, this is a 5 MP one with the same wide f/1.9 aperture.
We're looking forward to reviewing both the Galaxy S6 and Galaxy S6 edge, so check back soon if you're interested in finding out all there is to know about Samsung's newest flagships. Until we publish the full reviews, check out our
Galaxy S6 hands-on
, and our
Galaxy S6 edge hands-on
.