Samsung sells 1 million Galaxy S5 smartphones... in Germany
99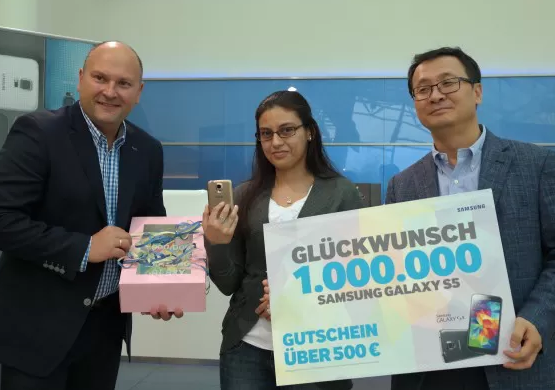 While Samsung hasn't updated us on how many
Galaxy S5
smartphones it shipped around the world since May (when the company said that
10 million units
had been shipped in 25 days since launch), we know that it was hoping to ship at least
35 million units
around the world this year. This doesn't seem to be an impossible goal, because Samsung today revealed that it sold (not just shipped) 1 million S5 handsets in Germany alone.
It's the first time when Samsung talks about specific Galaxy S5 sales numbers for a country other than South Korea. To celebrate this, Samsung offered a €500 voucher to the 1 millionth Galaxy S5 buyer. We must say, Samsung picked a very interesting moment to celebrate this milestone: it's the day when Apple
released its brand new iPhone 6 and iPhone 6 Plus
(with Germany being among the select markets to get both models from day one).
While it's been around since late March, the Galaxy S5 is obviously still a great smartphone, though many users may (understandably) not be attracted to it that much, now that newer options are available - including, of course, Apple's latest iPhones, or Samsung's own
Galaxy Note 4
(which can already be pre-ordered, though it won't start shipping before October).
via:
All About Samsung
(
translated
)