Samsung racks up 10 million Galaxy S5 shipments in a record-beating 25 days
95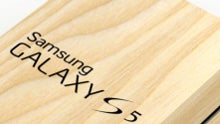 A report from Samsung's homeland of South Korea states that the company has shipped 10 million units of its flagship smartphone,
the Galaxy S5
, in a record-beating 25 days. Of course, this is shipments we're talking about, and not actual sales, but despite criticisms to the phone and tremblings at its upper echelons, the company could easily hit the same milestone in sales.
As for the record-beating part, the Galaxy S4 racked up 10 million shipments in 27 days, which formed last year's record. While this is a modest achievement, it is still one to admire. And to put things in perspective, the older Galaxy S smartphones - Galaxy S3, S2, and the original S, took 50 days, 5 months, and 7 months each to claim the 10 million figure.
It would be interesting to see whether the company will be able to best the Galaxy S4's 40 million sales. The current tendencies don't spell such an outcome - while the GS4 failed to achieve the GS3's 60 million sales, the high-end smartphone market became saturated, which means less customers are looking to purchase or upgrade to the Galaxy S5.
via
Ubergizmo