Samsung rolling out the official Android 7.0 Nougat update to the Galaxy S7 and S7 edge
11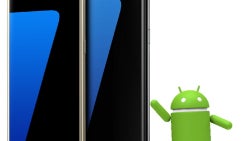 Stop the presses, Samsung is rolling out the official Android 7.0 Nougat update to the
Galaxy S7
and S7 edge days ahead of the rumored January 17th release date! Yep, beta users are starting to report that the update has popped up for them already, and is about 215 MB in size.
Of course, that's because they are
already running the beta
, so regular folks will have a much larger update size to download and install. Moreover, it's not clear yet when non-beta users of the carrier versions will get the update, but Samsung is
delivering the OTA update in January
, as promised, so that's an encouraging sign.
According to Samsung's Customer Consultant Guide slides, there are apparently no less than twenty new features and visuals that will be introduced with the Nougat software for your Galaxy S7 or S7 edge. Some of these, like the App shortcuts for default Samsung apps, or the multi-window mode, are inherent for Android 7, but many others belong to Samsung's new UX, and we aren't talking about the different iconography in the settings menu, or the notification shade background changes.
There is, for example, the ability to change the native screen resolution when you don't need all that granular detail, which would ease the work of the GPU, thus eventually have positive effect on battery life. The messaging app now allows you to classify texts by threads and contacts, and there are plenty of other changes coming with Nougat, so stay tuned for our review of the official update.
Recommended Stories