Samsung may be cutting back 10-inch tablet orders
19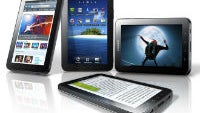 Samsung has slowly but consistently been taking more and more market share from Apple in the tablet segment. Android tablets as a whole have overtaken the iPad; and unsurprisingly, Samsung is the number one Android tablet manufacturer, which makes the company the second biggest tablet maker behind only Apple. But, a new report is saying that Samsung is cutting back on 10-inch tablet orders.
According to Taiwan-based supply chain companies, Samsung has been cutting back on 10-inch tablet components, because its 10-inch tablets have seen fairly weak sales, and the 7-inch tablets are the real stars of the show. Of the approximately 17 million tablets that Samsung shipped in the first half of 2013, reports say that as many as 70% of those were 7-inch tablets.
Sources say that Samsung is planning to stick to its strategy to "flood the market with various tablets including 7-, 8- and 10-inch models, as it seeks to dethrone Apple", but that it may have to tweak the strategy if 10-inch models don't sell better. Samsung reportedly has its eye on the laptop market next, and wants to get there with more convertible and hybrid tablet devices, which would have to start at the larger end, rather than the successful 7-inch range.