Samsung's foldable smartphone could go on sale for nearly $2000
41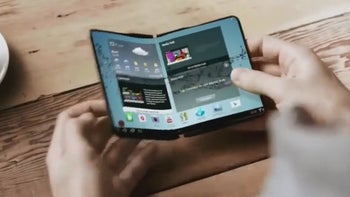 Rumors surrounding Samsung's first foldable smartphone have been flying around for a number of years now, with recent information claiming the South Korean giant will announce smartphone
at MWC 2019
. And now, thanks to market analysts, it appears the new device may be accompanied by a pretty hefty price tag of $1,850.
Currently, the analysts in question predict that supplies for the smartphone will begin arriving at
Samsung
around November, with assembly commencing later on in the month or towards the beginning of December in a bid to get the smartphones on store shelves by February. Nevertheless, it's noted that Samsung will refuse to unveil the device if it believes the user experience is still not at optimal levels, suggesting the foldable device could still be subject to delays. If all goes to plan, though,
the South Korean giant
is expected to show off the smartphone to carrier partners behind closed doors at CES 2018 in January ahead of its unveiling the following month, with initial production numbers set to be limited at anywhere between 300,000 and 500,000 units in order to gauge the market's initial reaction, thus following in the footsteps of the
Galaxy Note Edge
back in 2014.
In terms of what the device will actually offer, it's predicted that the display will sit at 7.3-inches in size when laid out flat, although this will shrink to 4.5-inches when folded while, on the specs front, the smartphone will presumably resemble
the Galaxy S10
. Speaking of which, recent reports claim the anniversary device will be unveiled at CES 2019 in order to make way for its foldable sibling.

Initially, Samsung's first foldable smartphone will likely serve as a proof of concept but if the feedback the company receives is positive, the company will likely opt to introduce a much more mainstream model later on in the year alongside the Galaxy Note 10.
Recommended Stories