Samsung finds that hitting a goal of 1 million for its Galaxy Tab in 2010 is "quite good"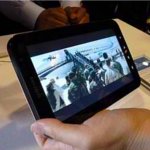 There's no arguing that Samsung is on track in hitting their expected sales goals with the Samsung Galaxy S, but now they're dishing up some expectations for their highly prized tablet. Even though some markets are already selling the Galaxy Tab, we're just on the heels of seeing it finally arrive in North America as a host of wireless carriers intend on selling it this month.
However, Samsung has already placed a fitting goal of selling 1 million Galaxy Tab devices before the year is over. Samsung's very own JK Shin said that the early results with the tablet were "quite good" and that they are "confident" that it'll hit that all too important figure of one million units in 2010.
Most recently, it was launched in its native country of Korea today and has been available in limited markets across Europe. Needless to say that it looks like Samsung's device is going to be the most popular Android tablet around, but it has a daunting task ahead of itself if it wants to knock off the iPad from the top spot.
via
Electronista