Samsung could roll out Galaxy Core Prime Value Edition running Android 5.1 Lollipop
11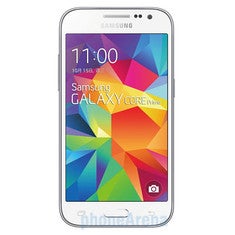 Last week, it emerged that a
Value Edition
of the
Galaxy Grand Prime
was in the works, having gained certification in Taiwan. As per a new report, a
Galaxy Core Prime
Value Edition could also be in the pipeline, and notably, this device looks set to run Android 5.1 out of the box.
The original Galaxy Core Prime already runs on Android 5.0, but with Android 5.1 off the bat, the Core Prime Value Edition would be more up-to-date on the software front. Unfortunately, looking at the specs leaked by Dutch blog GSMInfo, the Value Edition seems largely unchanged from a hardware perspective. The device will probably bundle the same 4.5-inch display, 1.2 GHz quad-core Snapdragon 410 and 5-megapixel rear shooter that graces the standard Core Prime, along with 4G LTE and 8 GB of expandable storage.
The release of any device running the latest Android 5.1 should be seen as a positive step, particularly given that most of Samsung's line-up is bereft in this regard. But since there doesn't appear to be much else to talk about with the Value Edition aside from a newer flavor of Lollipop, we cannot help but wonder if a software update to the Galaxy Core Prime would not be more appropriate here.
The aforementioned
Galaxy Grand Prime Value Edition
should offer a bit more by way of change than a meager software update, however. Samsung looks set to replace the Snapdragon 410 of the original Grand Prime with a 64-bit quad-core Cortex-A53 Marvell PXA1908 chip. The Marvell PXA1908 is slightly weaker in terms of graphics performance versus the Snapdragon 410, but the change could help to drive down the price.
It was initially suspected that the Galaxy Grand Prime Value Edition would pack Android 5.0, but in light of today's news, it seems more probable that it too will run Android 5.1 from the get go. There's no word on the pricing of either the Grand Core or Grand Prime Value Editions, although with announcement slated for the second half of next month, we'd expect both to arrive at or around the $200 mark.