Samsung announces i620 and F330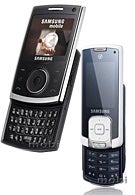 At the IFA 2007 show, Samsung announced two new phones, a 3G smartphone with full hardware keyboard and a music-oriented 3G slider.
Samsung SGH-i620
is a Windows Mobile 6 Standard edition device in slider form-factor which houses the 2-inch QVGA display, navigation keys and video-calling camera on the upper part and a full QWERTY keyboard on the other. This should lead to compact dimension which otherwise are impossible to achieve. Still, the i620 has a few drawbacks: first it is tri-band GSM with European HSDPA (1.8mbps) which limits the US usage and makes it suitable for Europe only. It other drawback for a smartphone is the lack of WiFi.
The
SGH-F330
is simpler and smaller than the smartphone, and its key feature is the music playback. This can be easily noticed by the design, which turns has D-pad styled as music-controls. The phone is only half-inch thick (12.8mm), has FM radio, microSD slot, Stereo Bluetooth and USB2.0 support. Unfortunately, like the i620, the F330 is tri-band GSM but for 3G supports HSDPA 3.6Mbps which should allow for very fast download of music. It will be available with T-Mobile in Europe.
source:
Mobil Idnes