Samsung and LG scoop up new executives to aid user experience design
1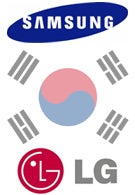 South Korea's two largest handset manufacturers haven't exactly been trailblazers when it comes to creating an engaging user experience for mobile phones, but that may be about to change. Both Samsung and LG have recently hired new design executives from the world of academia, presumably in hopes to reinvigorate their lackluster software offerings.
Kookmin University's Jung Ji-hong, a professor of Visual Communication Design, has just been named by Samsung as its new VP of Mobile Design. Jung has been charged with the task of creating a new user experience strategy for the company's smartphones – a strategy that we're hoping will bring significant improvement to Samsung's software development.
LG has also announced a new addition to its design team. Korea Institute of Technology's Lee Kun-pyo has been given the Executive VP position at LG's Design Management Center. Lee spent his days at KAIST as dean of the Department of Industrial Design – a position which clearly qualifies him for his new post at LG.
It's difficult to say exactly how much positive change the new executives will be able to bring to their respective companies' future software, but it's nice to see Samsung and LG starting to pay more attention to user experience.
source:
Korea Herald
via
Intomobile