Samsung ZX-20 gets a limited launch with Cingular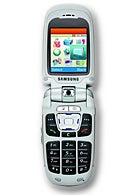 The ZX-20 by Samsung is a 3G quad-band GSM/EDGE phone with dual-band (850/1900 MHz) UMTS support and is only the second HSDPA capable handset launched by Cingular after the LG CU500. It is a clamshell with swiveling camera and is the successor of Samsung's ZX-10, and both phones have the same dimensions and stub antennas, while the major differences are the added High Speed Data Access and the Bluetooth support on the ZX-20.


However, the Samsung ZX-20 is currently available only through a Premier Account at a price of $199.99 - fairly expensive compared to the the stylish LG CU500.
Source:
EngadgetMobile