New Samsung wireless battery pack for Galaxy S10 provides 10,000 mAh of extra power
3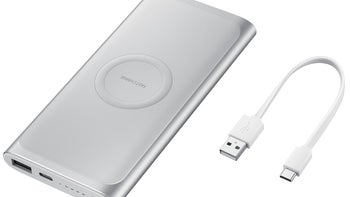 Samsung's
Galaxy S10
flagship smartphone series is officially launching on March 8, and with it come various new accessories. One of the accessories that Samsung itself has recently developed is the "Wireless Charger Portable Battery" pictured above and below. This is not yet available to buy or pre-order stateside, but it's already
shown on Samsung's US website
and we assume it will be released in the very near future.
Unlike all of Samsung's previous portable battery packs, the Wireless Charger Portable Battery (model number EB-U1200CPEGUS) will allow you to charge your new Galaxy smartphone wirelessly - the device's name obviously suggests that. A charging cord is also included for when you prefer to plug in your phone. In both cases - wirelessly and via cable - the battery pack will deliver fast charging to your shiny new S10.
At the moment, Samsung doesn't share too many technical details about its Wireless Charger Portable Battery. But the company does mention that this has a 10,000 mAh capacity - thus, it should be able to provide at least two full charges even to the largest Galaxy S10 model (the
S10+
, which features a generous 4,100 mAh battery of its own).
The price of Samsung's Wireless Charger Portable Battery has not been announced. However, we do know that this accessory will be offered as a
pre-order bonus to UK buyers
of Samsung's Galaxy Active smartwatch. In the US, the pre-order gift that comes with the new Galaxy watch is a charging pad worth $59.99, so this could also be the price of the portable battery, although we can't be sure of that just yet.
We'll be here to let you know when this Samsung Wireless Charger Portable Battery can be bought in the US.