Samsung Galaxy S10 and S10+ hands-on: Back on top of Android
75
The Galaxy S line has always been on the cutting edge of technology, but you could argue that last year's offerings, the S9 and S9+, were a bit reserved when you consider what the competition brought to the table for the rest of the year. This time around, Samsung isn't resting on its laurels, as the Samsung Galaxy S10 and S10+ are now official, reenergizing the line with innovative features that are sure to keep rivals on their toes.
| | Galaxy S10e | Galaxy S10 | Galaxy S10 Plus |
| --- | --- | --- | --- |
| Colors | Prism White, Prism Black, Prism Green, Prism Blue, Canary Yellow and Flamingo Pink | Prism White, Prism Black, Prism Green, Prism Blue, Canary Yellow and Flamingo Pink | Prism White, Prism Black, Prism Green, Prism Blue, Canary Yellow, Flamingo Pink, Ceramic Black and Ceramic White |
| Processor | Snapdragon 855 / Exynos | Snapdragon 855 / Exynos | Snapdragon 855 / Exynos |
| Display | 5.8" Super AMOLED, flat | 6.1" Super AMOLED, curved | 6.4" Super AMOLED, curved |
| Memory | 6/128GB, 8/256GB + microSD | 8/128GB, 8/512GB + microSD | 8/128GB, 8/512GB, 12GB/1TB + microSD |
| Rear Cameras | Dual camera: Regular, Ultra Wide | Triple camera: Regular, Ultra Wide, Telephoto | Triple camera: Regular, Ultra Wide, Telephoto |
| Front Cameras | Single camera | Single camera | Dual camera |
| Battery | 3,100 mAh | 3,400 mAh | 4,100 mAh |
| Security | Fingerprint on the side, embedded in power button; Face unlock | In-screen fingerprint; Face unlock | In-screen fingerprint; Face unlock |
| Price | from $749.99 | from $899.99 | from $999.99 |
No-compromise design
We really need to give credit to Samsung for continuing to offer no-compromise designs with its flagships. On the surface, the metal-and-glass construction has been something they perfected a long time ago, especially with their all-screen curved edge looks.
The Samsung Galaxy S10 and Galaxy S10+ flaunt Samsung's new Super AMOLED Infinity-O displays. They're HDR 10+ certified, offer enhanced blue light reduction, vivid colors, and pixel-crushing densities that make them extremely detailed. Samsung talks a great deal about the displays with all of these features, and at the end of the day, they do look superb! From the vivid colors they produce to the sheer amount of crisp details, there's a lot for our eyes to fall in love with.
Speaking of that, the new Infinity-O displays ensure minimal distractions with their punch-hole front cameras. They appear as a tiny hole in the upper right corner of S10, but it's wider and more apparent with the S10+ due to the fact that it's rocking dual cameras. Still, the bezels are unbelievably skinny around the displays!
The Huawei Mate 20 Pro, one of 2018's hottest phones, was vaunted among critics and users for its in-screen fingerprint sensor and reverse wireless charging features. Thankfully, Samsung has brought both of those features to its flagships. We saw the brand new ultrasonic fingerprint scanner in action, working flawlessly to unlock the phones. This is a significantly better implementation than Samsung's previous rear-mounted fingerprint sensors. Even though we didn't get the chance to register our own fingerprints to test out this feature, we're crossing our fingers that its accuracy and reliability will match those of traditional scanners.
On top of that, the new Wireless PowerShare feature is easily enabled through the pull-down notifications panel. Even better, there's a massive 4100 mAh battery in the S10+ to ensure sharing power won't be too much of a drain on the phone. What makes Samsung's implementation more convenient is that we don't have to go through all of the settings menus to enable it like on the Huawei Mate 20 Pro. Instead, all that's needed is to toggle the on-screen button within the pull-down notifications panel.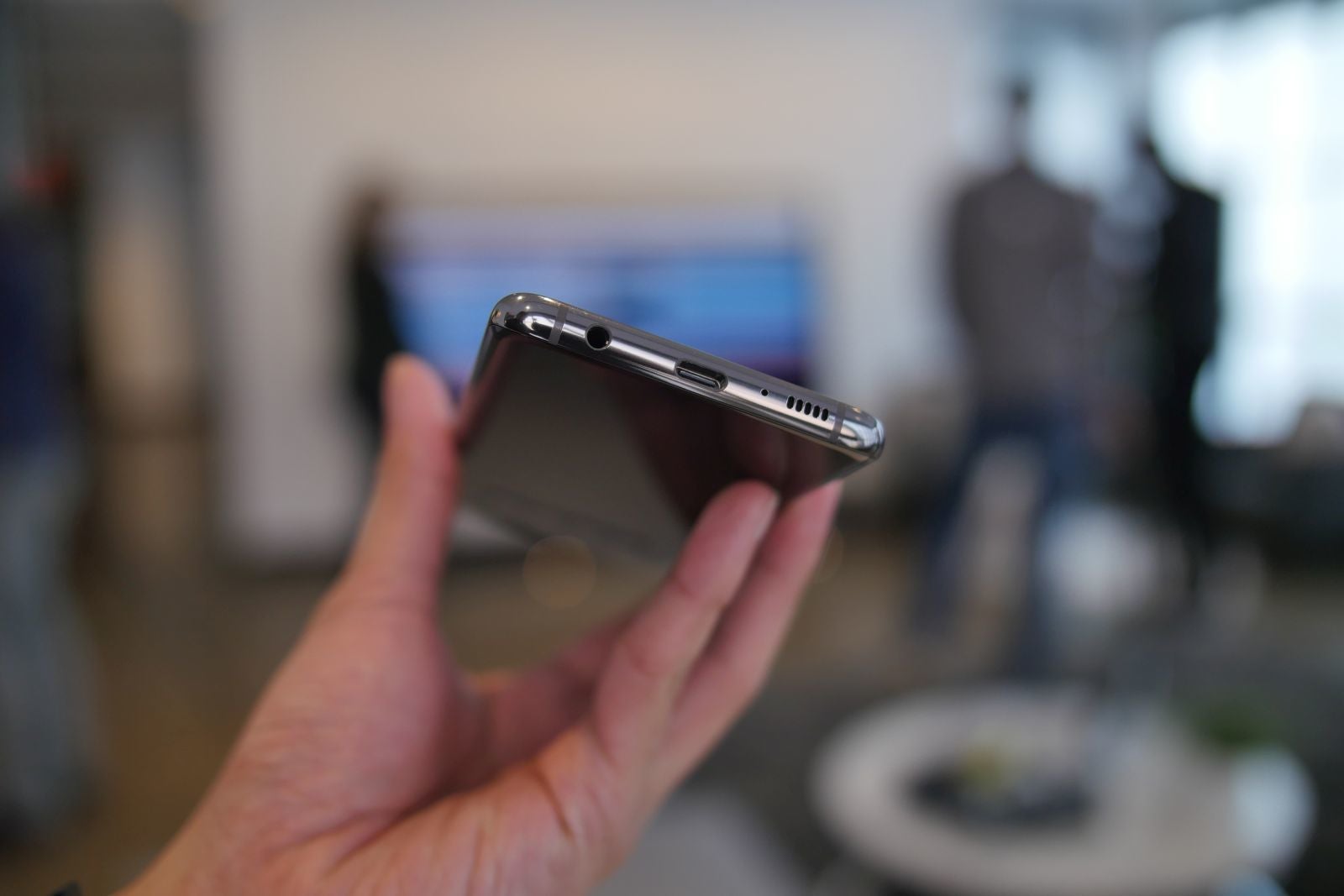 Both the S10 & S10+ will feature the new ultrasonic fingerprint scanner, headphone jack, expandable storage via microSD cards, & IP68 water-resistant constructions.
Another aspect we need to applaud here is the fact that Samsung has opted to keep the headphone jack! Yes people, the headphone jack lives on with the S10 line, adding even more utility for the already feature-rich smartphones. But you know what? The goodies don't stop there with the S10 line because they're both IP68 rated to offer water resistance, in addition to offering fast wireless charging and expandable storage via their microSD card slots.
Even though the fundamental design language of the series hasn't changed from the previous few generations, there are some new colors worth mentioning. In particular, the Flamingo Pink variant pops out with its piercing color – while the Prism Green also garnered some attention for us as well. However, Prism Green won't be coming to the US. And lastly, there will be a variant of the S10+ with a Ceramic White back for extra durability and scratch resistance.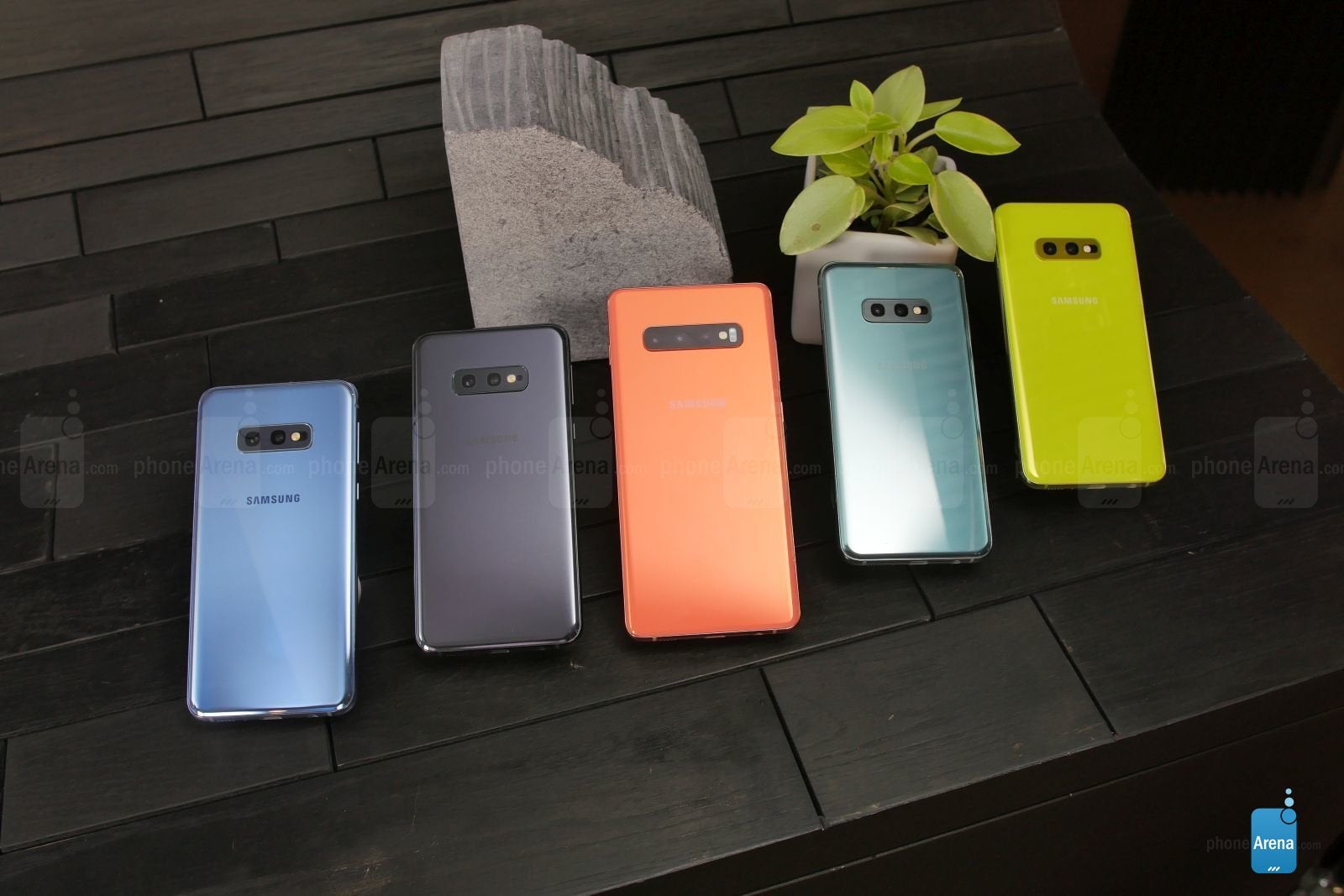 Flamingo Pink is one of the new colors for this year's S10 line.
An even mightier punch
Under the hood, the two phones leverage Qualcomm's best: the Snapdragon 855 SoC – paired with 6GB and 8GB of RAM starting for the S10 and S10+ respectively. Meanwhile, there will also be a model of the S10+ packed with a mind-blowing 12GB of RAM. Now, we may consider this a bit overkill, but Samsung claims that the DeX desktop PC experience will benefit from the additional memory. In our quick handling of the two phones, they were faster, more responsive than their predecessors – a part of which could be attributed to the new gesture-based Samsung One UI running on top of Android 9 Pie. For the gamers out there, it should be noted that the S10+ features a vapor chamber cooling system to ensure an optimized performance during gameplay.
All about the cameras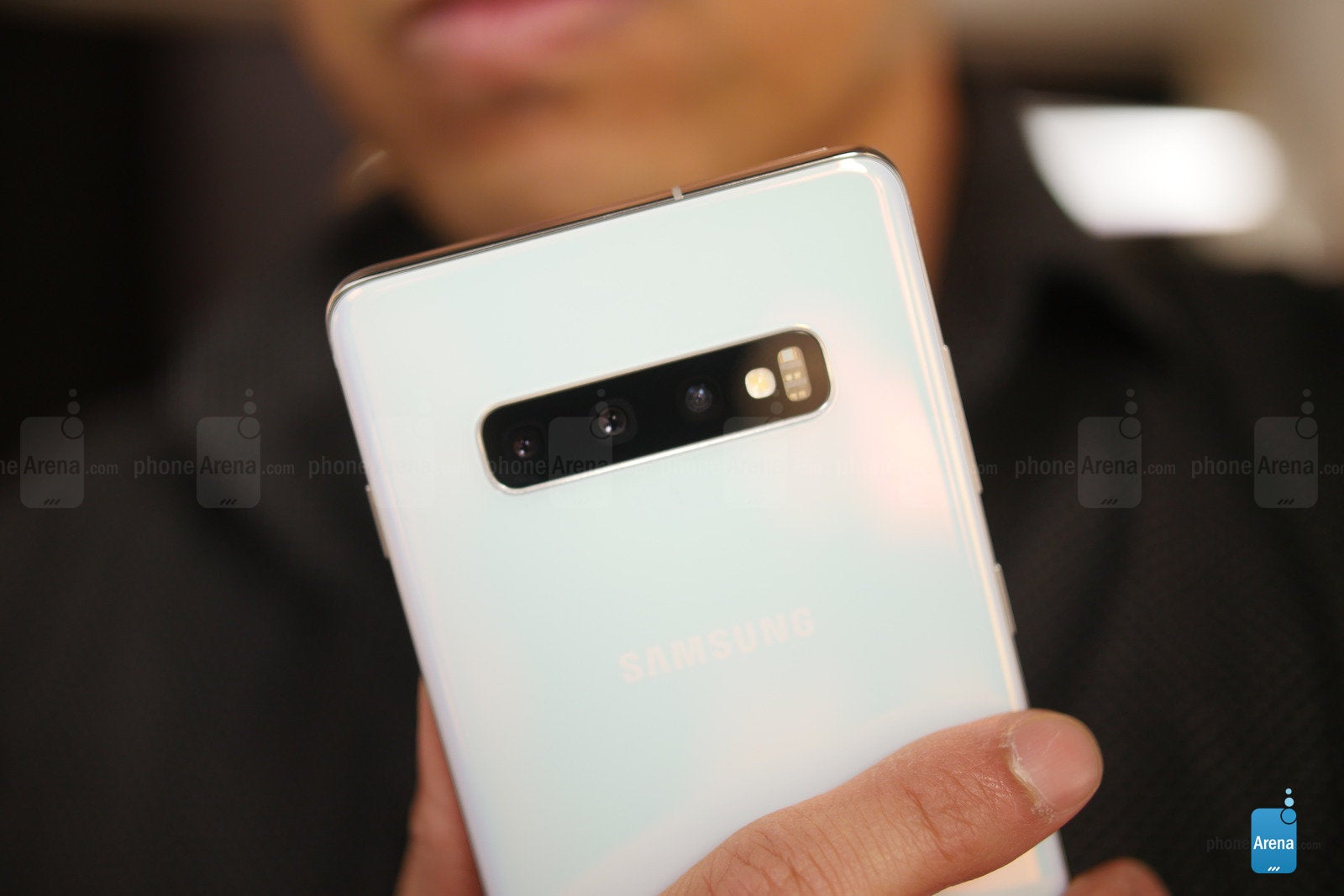 Dual cameras have been all the rage for the last couple of years, but there have been a few that pushed things further with their triple cameras – like the Huawei P20 Pro, the Mate 20 Series, and the LG V40 ThinQ. Samsung makes the jump as well with its new flagships, as the S10 and S10+ feature triple rear cameras. They break down to a main 12MP endeavor with variable F1.5/F.2.4 aperture and a FoV (Field of View) of 77-degrees, aided by a 16MP ultra wide-angle f/2.2 camera that will have a much larger 123-degree FoV. And lastly, the third camera at the back will couple up a 13MP sensor with a 2x telephoto lens (45-degree FoV), pretty similar to the one on the Galaxy Note 9 and Galaxy S9+ that precede it. We're told that there's OIS in the main and telephoto cameras, but not in the ultra wide-angle one.
All of this elevates the S10 line's camera capabilities, which has been enhanced with the new AI powered scene recognition to optimize photos. Although it's tough to pass judgment on its performance after a cursory look, you can bet that they won't disappoint given Sammy's reputation in this area. Considering how low-light performance has been aided largely by AI and software on other phones, it'll be interesting to see how the S10 line performs against them. Over on the video side, we're happy to report that all the usual staples are here – like 4K video recording and super slow motion.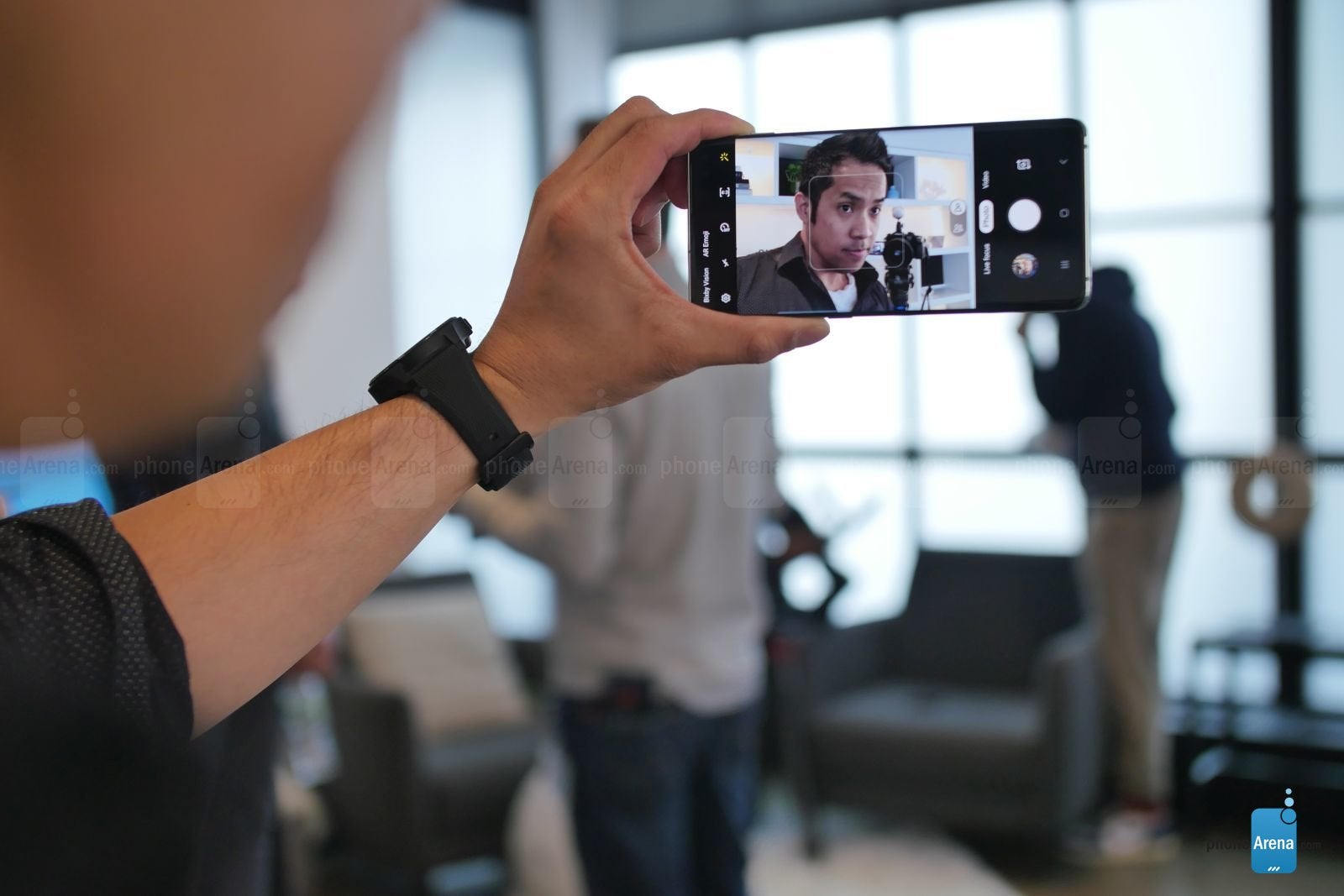 Despite sharing the same triple cameras in the rear, the S10 and S10+ differ with their front-facing cameras. The S10 is rocking a single 10MP camera hidden in that punch hole. However, the S10+ adds an RGB sensor that is used for depth-sensing to gather information for applying those realistic-looking portrait mode selfies and superior AR Emoji. The front-facing cameras here with the Galaxy S10 line offer 4K recording.
At the end of the day, the results will indicate to us who's going to be the new king in the smartphone camera category. Nevertheless, the package presented here by Samsung is impressive enough to please a wide array of users – both enthusiasts and beginners.
Undercuts the competition with price
Samsung is doing something rather unexpected for a company of its caliber. By now, many companies have followed Apple's structure of selling two flagship devices – one at the $1000 price point, with the other larger or "plus" model at $1100. The Huawei Mate 20 series most recently did nearly the same thing as Apple, but Samsung is looking to undercut everyone with its S10 lineup. That's because the S10 and S10+ will start respectively at $900 and $1000. Those are prices are $100 less than the norm, which definitely adds to the lineup's allure.
Technically speaking, they're still more expensive than their predecessors. However, when you consider how much Samsung has crammed into them, their no-compromise designs, rear triple cameras, and high-end specs, the prices aren't too tough to swallow when we look at other recent flagships. You could say that 2018 was a reserved year for the company, but rest assured that won't be the case for 2019. So far, the Samsung Galaxy S10 and S10+ define what it takes to be at the top of the food chain once again. The sleeping giant has awoken once again after a slight slumber, so the competition will really need to step it up if they want a chance to even match what Samsung is doing here.