Samsung Ultra Multimedia F510, F520 and i520 Smartphones
1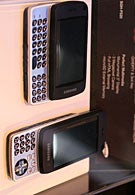 Expanding its F-series Ultra edition multimedia devices, Samsung today announced two F510 and F520 models.
The F510
is identical to the already announced dual-face F500 Video, and just adds DVB-H TV reception capabilities and HSDPA high-speed data. The new F510 as well as F500 feature unique dual-face design, where the keyboard is on the back, while the front is dominated by a large 2.4" display with 240x320 pixels resolution with just a navigation pad below it. The F500 was also the first phone to support Divx, allowing viewing of videos and movies encoded with it.
Samsung F520
The new F520 features dual-sliding mechanism, allowing it to be slid-open both horizontally like for example the T-Mobile MDA as well as vertically like a regular slider. Depending on which way it is slid, it either reveals a full QWERTY keyboard, or just numeric pad with two softkeys and the standard hang-up/pick-up.
The phone is slatted for Europe/Asia release and thereby only support tri-band GSM (900/1800/1900 MHz) and single-band UMTS (2100 MHz).
Its features include large 3" screen with 480x272 pixels resolution, Flash UI, full HTML browser, microSD memory expansion and video and music players.
Samsung has not released a Symbian based phone since 2005, when the D730 and D720 were announced. The new
i520
is slim slider with about 17.9 width and weight of 99g, which will be exclusive available from Vodafone and will feature their TPP VCP customized interface.
It features 2-mega pixel camera and 2.3" wide QVGA screen , capable of showing a whole webpage without the need of horizontal scrolling. For data, it supports 1.8 Mbps HSDPA/UMTS. Bluetooth 2.0, microSD memory expansion, MP3/AAC/REAL/WMA music player and video players are some of its main features.
For more live images, check our hands-on report from 3GSM 2007