Samsung SM-A500 may have a full metal body and a 5-inch display
44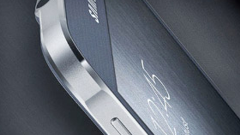 The Samsung SM-A500 is expected to be part of
a brand new series of metal-made smartphones
- which, for the moment, includes only the
Galaxy Alpha
. Earlier this month, we told you that
the SM-A500 would sport
a 4.8-inch 720p display, but it seems that this may not be the case.
According to SamMobile, the SM-A500 is larger than we thought, featuring a 5-inch screen (with the same 720 x 1280 pixel resolution). More interestingly, it's said that the SM-A500 may have a full-metal body - including the back cover, which reportedly isn't removable.
As you may know, the Galaxy Alpha (seen above) isn't completely made out of metal, as its rear cover still uses plastic. So the A500 could have a more premium feel.
Despite of what we previously heard, SamMobile says that the Samsung SM-A500 won't be powered by a 64-bit Snapdragon 410 processor, instead using a Snapdragon 400 chipset (which seems to be the chipset of choice for lots of mid-range smartphones nowadays). Other features should include a 5 MP front-facing camera, 8 MP rear camera, 16 GB of internal memory, microSD card support, and a 2330 mAh battery.
All in all, we're really curious to see what this Samsung SM-A500 will look like. Are you?