Samsung Premium Suite for Galaxy Note includes S Pen apps for ICS
11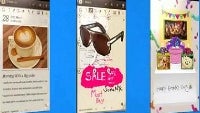 After a couple of leaks here and there, and some custom ROMs, Samsung finally explained how the 5.3-inch Galaxy Note will get updated to Android 4.0 Ice Cream Sandwich and what the mysterious Premium Suite coming along is. When you first hear the words, you might think Samsung is again referring to a collection of features instead of a full ICS update, but in actuality the Premium Suite is a collection of apps specific for the S Pen. Those include the S Note, an update of S Memo, and My Story.
Samsung is now showing this in all the detail you might need in the video below. The S Note application for example is pretty vast and has shape recognition so your diagrams always look neat. You can also fit content in one of seven pre-defined types, which could be useful for some. And finally, you have My Story, which is a neat app for creating content-rich and funny e-cards, that you can then send to your loved ones.
Check out what the Premium Suite is all about below - it should be out by the end of Q2 2012.