Samsung Pay now works with selected gift cards
22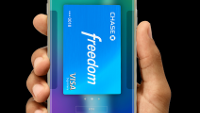 This is definitely the time of the year when you are receiving a number of gift cards. Aunts, uncles, grandparents, the spouse, co-workers and the neighbors are all plying you with gift cards. Do you really want to carry all of them in your wallet or purse? Well, if they were issued by one of the 50 retailers that has partnered with Samsung, you can store them digitally on the Samsung Pay app. Storing and using gift cards is a feature that is not yet available on Apple Pay.
In the same manner that you would use to store a credit or debit card on Sammy's mobile payment service, certain gift cards can be kept on your handset. When you are ready to use the gift card, you can select it from your digital wallet and complete a transaction by using an NFC connection, or via MST (Magnetic Secure Transmission). The latter allows Samsung Pay to work at any retailer that can swipe a credit card.
Among the retailers whose gift cards are supported by Samsung Pay are Babies"R"Us and Toys"R"Us, Bass Pro Shops, Domino's, eBay, GameStop, Nike, Regal Entertainment Group and Staples. And you can even purchase new gift cards from select retailers inside the Samsung Pay app. That is the easiest way to finish off your holiday shopping list.
Samsung Pay has launched in the U.S. and South Korea. Three countries rumored to be receiving the mobile payment service next quarter are China, Spain and the U.K. The handsets that are compatible with Samsung Pay are the
Samsung Galaxy S6
,
Samsung Galaxy S6 edge
,
Samsung Galaxy S6 edge+
,
Samsung Galaxy S6 Active
and the
Samsung Galaxy Note 5
. Need another look at the Galaxy Note 5? We've added some images below, just for you!
source:
Samsung