Samsung Korea gives a free Galaxy S6 to those loyals still rocking the original Galaxy S
30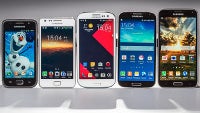 A free
Galaxy S6
to those who have bought each Galaxy S model, and those users still rocking the first
S
, plus a year's worth of free calls on SK Telecom - that's the bounty that Samsung loyals will take home when all the festivities around the
Galaxy S6
launch are done and dusted in the company's homeland.
It turns out that no less than 17, 000 SK Telecom subscribers are still happy enough with the Galaxy S1 performance to keep it at hand (or maybe in the drawer) that long time after launch. According to the carrier's statistics, about 15 million subscribers have gotten at least one Samsung Galaxy S phone since the S was unleashed on the unsuspecting masses in 2010.
Moreover, roughly 1,600 SK Telecom users got each and every of the one of the 13 different Galaxy S series reincarnation in Samsungs homeland, while 2,400 bought more than 10, swapping phones every six months or so. Now that's what we call brand loyalty.