Samsung Galaxy Watch is announced in two sizes with LTE and multi-day battery life
31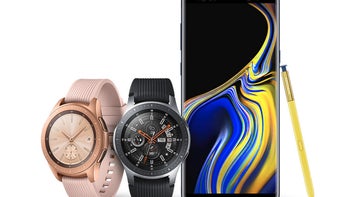 Surprise, surprise! It turns out that Samsung had one more thing to show us at today's Unpacked event. Soon after the new Samsung Galaxy Note 9 was introduced on stage, the long-rumored Galaxy Watch was also made official.
Samsung's presentation of the Galaxy Watch was brief, but informative enough to give us an idea of what to expect out of the new wearable. The watch adopts many of the traits and features we already knew from the Gear S3 and the Gear Sport, such as the circular display and the rotating bezel around it used for navigating the interface.
What's new with the Samsung Galaxy Watch is that it comes in two sizes. A 42mm-wide variant will be available in either black or rose gold, alongside a bigger, 46mm model that will come in silver only. Standard 20- and 22-millimeter wristbands can be used, giving us more personalization freedom. All of these design refinements should make the watch more appealing to both ladies and gentlemen.
But the Samsung Galaxy Watch is also tough. It complies with military-grade tests for durability and is waterproof down to 50 meters, so it can be safely used in the swimming pool. The display is protected by Corning's Gorilla Glass DX+, which is a special type of scratch-resistant glass designed specifically for smartwatches.
Now that we've mentioned the display, the 42- and 46-millimeter models of the Galaxy Watch sport 1.2- and 1.3-inch circular AMOLED screens respectively. Both pack resolution of 360 by 360 pixels so they should be plenty sharp. As before, an always-on display option is available, although leaving it activated will undoubtedly impact the wearable's battery life.
And speaking of battery life, the matter has been addressed by integrating a specialized, low-power processor inside the Galaxy Watch, namely the dual-core Exynos 9110. The Galaxy Watch should easily last several days between charges – or over 80 hours according to Samsung's tests, to be more precise. This figure may be small if we compare the Galaxy Watch to a basic fitness tracker, but for a full-fledged smartwatch, that kind of longevity is impressive.
Digging further down its specs sheet, the Samsung Galaxy Watch stands out with its built-in LTE connectivity, giving it 24/7 internet access. In other words, it can be used as a stand-alone device without being tethered to a smartphone. Curiously, a Bluetooth-only model may be also in the cards, looking at the official product page.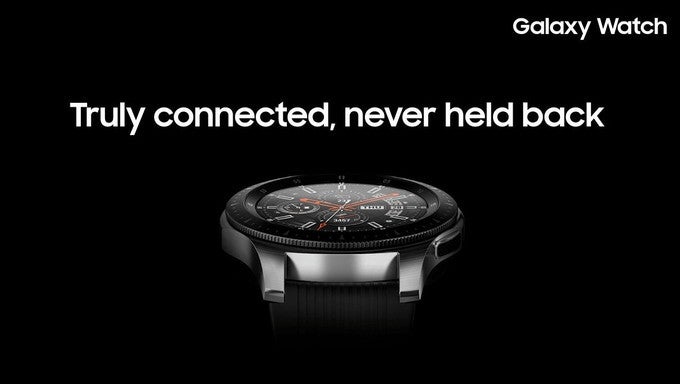 To no surprise, the Galaxy Watch runs Samsung's own Tizen operating system, which is known for its excellent responsiveness and power efficiency. Samsung highlighted multiple wellbeing features during the presentation, including the wearable's ability to detect elevations in the user's stress level, which in turn displays a suggestion to perform a quick breathing exercise. Furthermore, the Galaxy Watch's ability to track sleep can inform you how much quality sleep you get at night.
By partnering up with Spotify, Samsung is also allowing Galaxy Watch users to stream their favorite playlists directly to their wearable and to even save them onto its 4GB of built-in storage for offline use. Samsung Pay is also present, although it seems to work over NFC only, as compatibility with the old-school magnetic stripe technology isn't listed in the specs sheet. Bixby, Samsung's AI-powered personal assistant, is accessible on the Galaxy Watch.
The Galaxy Watch release date is set for August 24, meaning that it will launch alongside the Galaxy Note 9 in the US. It will later become available in Korea on August 31. Other markets will follow on September 14.