Samsung Galaxy Tab sales top 600,000, to hit 1 million by end-2010
12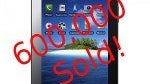 Samsung has confirmed that sales of its first bid on the tablet market, the Samsung Galaxy Tab, are outstripping supply at 600,000 units only a month after its launch. At such rates, the 7-inch Android-powered tablet is expected to meet the 1 million sales target set out by Samsung.
The figure comes to respond to
speculations from Wall Street analyst Ashkok Kumar
about poor sales and a 50 per cent production cut of the tablet. Samsung Galaxy Tab was launched in mid-October as the first serious competitor to Apple's iPad. Despite its smaller size, it offers Adobe Flash support, and with Android on board, it is a worthy alternative. We
weighed the pros and cons of both tablets
to help you make the best choice for your needs.
Tablets were practically terra incognita in the mobile landscape before Apple launched the iPad in April, but now the situation has changed. "We believe tablet PCs will take over a bigger portion of the market next year", Samsung's mobile division head Shin Jong-kyun noted. Do you think you actually need a tablet? Let us know in the comments.
source:
Asia News Network
Recommended Stories