Samsung Galaxy Tab vs Apple iPad
24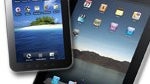 Introduction:
It is the end of 2010, and Samsung has just outed its first tablet computer, the Galaxy Tab. Its purpose, apart from making lots of money for the company, is to compete with Apple's groundbreaking iPad - a product that managed to single-handedly initiate a brand new personal computer market. Many were skeptical about the iPad's success in the long run, but as it seems the device is still facing strong demand, which also becomes apparent through the multiple other companies hurrying up to deliver their own tablets to the market.
In this comparison, we'll focus on the two strongest opponents right now, namely the
Samsung Galaxy Tab
and the
Apple iPad
. Both seem to have their own chances to emerge victorious, but let's first take a more in-depth look at their capabilities in order to have an accurate judgment as to which one could be called the best tablet for the time being.
Design:
A usual point of controversy, the design of a product is one of the main attractors for would-be buyers. Put both tablets in front of you and it will not be long before you realize how different they are. Clearly, if compactness is on your mind, then the Galaxy Tab will most probably fit the bill, as it's also significantly lighter. Without a doubt, the Galaxy Tab is a much easier device to handle, which is obviously its biggest advantage from design point of view.
On the other hand, the materials that Apple has utilized are of noticeably higher quality. Instead of plastic, the iPad relies on an all-metal back, which feels quite sturdy, although easy to slip out of your hands.
Being compact though has its drawbacks. For example, if you are significantly smaller than the iPad, then you simply cannot fit its 9.7" screen. That's just the case with the Samsung Galaxy Tab and its 7-inch
LCD display
. There's no need to tell you that when it comes to screens, bigger is always better, as long as it's not too big, of course. Naturally, both tablets pack some contemporary display technologies, and honestly, we didn't find much of a difference between the iPad's IPS LCD and the Galaxy Tab's TFT LCD. There might be a slight advantage to the iPad's viewing angles, but that's as far as it goes. Both tablets are hardly usable under bright sunlight, with neither managing to excel.
When it comes to
resolution
, both devices have pretty similar characteristics, which means an overall higher pixel density for the Samsung tablet. That said, the iPad isn't too far behind as it still manages to deliver a more than satisfying image detail.
Conceived as a more of an all-in-one device than strictly a tablet computer, the Samsung Galaxy Tab manages to squeeze in a 3.2MP AF camera plus a front-facing one for eventual video chats - features that are sorely missing from the current-generation iPad.
That's pretty much all there's to know about the different design approaches taken with both tablets. We like both of them and we can't say which one is the winner here, since it's really a matter of personal preference whether you'd like a larger screen or a more compact device.
Recommended Stories