New Galaxy Tab Advanced 2 surfaces online, could be sold alongside XL model
12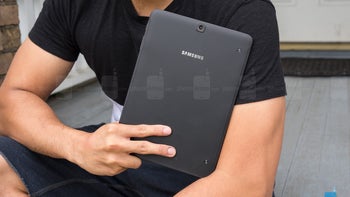 So far, we've heard rumors of two upcoming Samsung tablets,
the Galaxy Tab S4
and what was previously being called the Galaxy Tab A 10.1 (2018). According to a user manual that has surfaced online, however, it appears Samsung may have plans for a third offering, dubbed the Galaxy Tab Advanced 2.
Externally, the tablet will follow the design language of the upcoming Galaxy Tab S4. This means a slight reduction in the overall bezel size will be present along with new on-screen keys to replace the previous physical home button. Unlike the flagship offering, though, the Tab Advanced 2 will not feature an iris scanner. It will, however, boast a front-facing camera complete with an LED flash. In regards to internals, the processor seen on the original Galaxy Tab 10.1 from 2016 will be making a return. This means the Exynos 7870 will be present along with what will presumably be 3GB of RAM and either 32GB or 64GB of internal storage. Also, it's worth noting that
Android 8.0 Oreo
will ship straight out of the box.
Currently, the Galaxy Tab Advanced 2 has been assigned the model number SM-T583, further confirming that this model will be only a small updated over the original
Galaxy Tab A 10.1
that was known as the SM-T580 and SM-T585. Nevertheless, taking this into account, it appears the
recently-spotted SM-T595
that was assumed to be a 2018 edition of the Galaxy Tab A 10.1 is, in fact, a different device that is now expected to feature a larger display. Additionally, it's set to launch under the Galaxy Tab Advanced 2 XL moniker, although this could potentially be shortened to Galaxy Tab A2 XL.