Samsung Galaxy Tab 10.1 and Galaxy Tab 7.0 Plus dress up in white, both look beautiful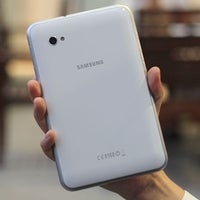 What you see below, folks, are photos of the
Samsung Galaxy Tab 10.1
and
Galaxy Tab 7.0 Plus
. However, do you notice that they appear somehow... different? Yes, we bet you did, and that is because they both sport an all-white paint job. Sure, we have seen both devices in white before, but this time, the bezel of the devices sports the same color as well. And we must say that they look much sexier now with their new outfit on.
Unfortunately, these photos have been taken in Vietnam where the all-white Samsung Galaxy Tab 10.1 and Galaxy
Tab 7
.0 are being sold. And in case you are wondering, all specs and dimensions remain unchanged with the difference in color being the only thing that sets them apart from their black siblings. Whether these will ever land in the U.S. is anyone's guess, but it probably wouldn't hurt crossing your fingers and hoping that they make it Stateside eventually.