Samsung Galaxy S6, Samsung Galaxy S6 edge pre-orders slated to start March 20th in the U.K.
12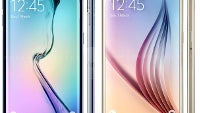 Pre-orders for the
Samsung Galaxy S6
and
Samsung Galaxy S6 edge
will start in the U.K.on March 20th. Samsung not only announced the date, but also revealed that those who pre-order either phone from the Samsung Experience store or from Samsung.com will be able to obtain their new handset on April 9th. That is a full day before the new phones will be official launched in the region. Besides pre-ordering directly from Samsung, U.K. consumers will be able to reserve either phone with retailers and wireless operators such as Vodafone, Carphone Warehouse, Three, EE and O2.
While no official number has been released, there is speculation that
Samsung has rung up carrier pre-orders of 15 million units for the Samsung Galaxy S6
and 5 million for the Samsung Galaxy S6 edge. This would appear to give Samsung confirmation that building its new flagship from scratch was a successful move.
When the previous model, the
Samsung Galaxy S5
, rang up disappointing sales in the face of criticism from phone buyers hoping for a more premium (read metal) build, Samsung went to work on building a phone with a metal frame (
Samsung Galaxy Alpha
) as a test run. It then re-designed its flagship from scratch, substituting form for function. That meant removing the microSD slot from the phone and making the battery non-removable.
Still, the excitement generated by the two new handsets has brought life back into Samsung, which is a huge 180 degree change from the struggles that the company's mobile division went through last year. Samsung isn't totally in the clear however. While the two new handsets are capturing the early buzz, they still have to compete with the other new Android powered flagship models like the
HTC One M9
and the upcoming
LG G4
.
via:
AndroidCentral
London, UK – 18th March, 2015 – Samsung Electronics Co. Ltd. announced that the Galaxy S6 and S6 edge smartphones will be available to pre-order in UK stores from 20th March 2015, ahead of the on-sale date of 10th April 2015.

The Galaxy S6 and Galaxy S6 edge will be available to pre-order from all high street retailers and networks including Vodafone, Carphone Warehouse, Three, EE and O2.

The Samsung Galaxy S6 and Galaxy S6 edge offer a new standard for design, craftsmanship and performance and seamlessly blend premium materials with the most advanced Samsung technology to offer consumers an unmatched mobile experience.

Those customers who have pre-ordered devices from the Samsung Experience Store and Samsung.com will be able to pick up their device a day earlier on 9th April.
Beauty Meets Purpose

Carefully crafted from metal and glass, the Galaxy S6 and Galaxy S6 edge blend purposeful design with powerful features. The Galaxy S6 edge, particularly, shows unique and outstanding beauty while also providing a solid grip and an immersive viewing experience with the world's first curved display on both sides. Its glass body, made from the toughest glass to date, Corning® Gorilla Glass® 4, is available in an array of jewel tones, including White Pearl, Black Sapphire and Gold Platinum, which elicit a unique visual texture as it reflects natural light.

Vivid Images with a Fast, Bright Camera The Galaxy S6 and Galaxy S6 edge are equipped with an incredibly vivid, bright and fast front and rear camera. The F1.9 lenses and high-resolution sensors on both front (5MP) and rear (16MP) cameras provide the most superior image quality in a smartphone, even in the dark. In addition, Auto Real-time High Dynamic Range (HDR), Smart Optical Image Stabilisation (OIS) and IR Detect White Balance provide advanced light sensitivities and crisp camera solutions. Furthermore, a new "Quick Launch" feature give users fast, direct access to the camera from any screen in just 0.7 seconds* by simply double clicking the home key button. These advanced camera functions enable users to capture their most precious and personal moments in uncompromisi g quality, however and wherever they want.
Super Charging and Cord Free

With fully embedded WPC and PMA certified wireless charging technology, the Galaxy S6 and Galaxy S6 edge are setting a new industry standard for universal wireless charging. The devices work with any wireless pad available in the market that supports WPC and PMA standards. They also sport incredibly fast wired charging, 1.5 times faster than the Galaxy S5, providing about 4 hours of usage after only 10 minutes of charging.*

"The response to the Samsung Galaxy S6 and Galaxy S6 edge devices has been overwhelming, the entirely redefined smartphones offer consumers what's next in mobility," said Conor Pierce, Vice President IT & Mobile at Samsung Electronics UK and Ireland. "At Samsung, we don't talk about what might be possible tomorrow, we make it happen today and that's why we're bringing people new technology faster than anybody else."

The Galaxy S6 and Galaxy S6 edge will be available from 10th April, 2015 with 32/64/128GB storage options available in White Pearl, Black Sapphire and Gold Platinum.

Full details and product images are available at www.samsungmobilepress.com.

For full information on the Galaxy S6 and S6 edge please visit www.samsung.com/uk/galaxyS6/

To pre-order the Samsung Galaxy S6 or Galaxy S6 edge please visit http://www.samsung.com/uk/shop/