Samsung Galaxy S5 takes ice bucket ALS challenge: mocks iPhone, but falls victim to own forgery
36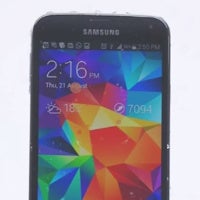 As practically every celebrity in the Western world takes part in the ice bucket challenge to raise awareness about ALS (Amyotrophic lateral sclerosis, the illness that you might know as what physicist Stephen Hawking is suffering from), Samsung seems to have thought that it's a good idea to use the challenge to promote the water resistance of its Galaxy S5.
Tasteful is not the first word that comes to mind when a company uses a public donation campaign to promote its product, but we'll let this fly and focus on the message. It all boils down to a bucket of ice water pouring down on the Galaxy S5, and Samsung's S Voice assistant throwing a punch at the
iPhone 5s
,
HTC One (M8)
, and
Lumia 930
. The voice challenges the three phones to take the challenge, knowing they are not protected as well from the elements. The Galaxy S5, on the other hand, takes pride in being IP67 certified, meaning that it's protected from dust and from immersion in water of up to 3 feet deep, for up to 30 minutes.
But in a case of the pot calling the kettle black, Samsung falls victim to its own forgery. Notice how the time in the notification area of the S5 says 2:50pm, while the clock in the middle of the S5 screen reads 2:16pm. This obvious faking of the whole ice bucket challenge turns Samsung hard efforts to mock others at itself.
source:
Samsung Mobile UK