Samsung Galaxy S4 Active "mini" model seen at the FCC
6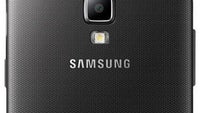 It has been less than 24 hours since we came across a
new Galaxy S4 Active model
. Known only as the Samsung GT-I8580, it is a physically smaller version of its 5-inch counterpart, offering identical level of resistance to the elements, but in a smaller form factor. Where can you get one? Well, you can't, or at least not for now, as the smartphone isn't official yet. But given the evidence, its public announcement might be nearing, and by "evidence" we refer to the fact that the Samsung GT-I8580 has been given the green light by the FCC.
Unfortunately, there's nothing in the smartphone's FCC filing hinting at a possible release of the Samsung GT-I8580 through a US carrier. We see that it supports GSM networks on the 850/1900MHz range, as well as the mandatory Wi-Fi and Bluetooth, but that's pretty much it.
As for its specs, this Samsung Galaxy S4 Active mini (or whatever it ends up being called) is shaping up as a not-so-impressive mid-range device. It is powered by a 1.2GHz dual-core Snapdragon 400 SoC backed by 1GB of RAM. The screen, at 4.65 inches in diagonal, is of average size, but its resolution of 480 by 800 pixels is underwhelming. A 5MP camera is said to be on the back of the smartphone. On the software side of the equation, we expect seeing nothing older than Android 4.2 out of the box. By the way, these are anything but confirmed, so the smartphone's final hardware and software specifications might differ.
That's pretty much all we know so far about the Samsung GT-I8580, dubbed Galaxy S4 Active mini. We'll keep an eye out and let you know as soon as we learn more about it.