Samsung Galaxy Note 8.0, 16GB, Wi-Fi, on Office Depot's web-site for $399, listed as "Out of Stock"
15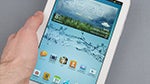 As we catch wind of the
Samsung Galaxy Note 8.0 going on sale in London
, the S-Pen equipped tablet is now shown on Office Depot's web-site.
The Wi-Fi only tablet is listed for $399.99 and is positioned in a competitive segment which is also occupied by the Apple iPad mini and Nexus 7. However, the Note 8.0 is priced notably higher than the other tablets.
However, those tablets are not sporting the venerable S-Pen whose technology has advanced markedly since the first Galaxy Note appeared over a year ago. The Note 8.0 also supports multi-screen functionality as well. Plus, any storage advantage the other tablets may have in optional configurations, the Galaxy Note 8.0 allows microSD expansion.
Throw in all the S-Pen optimized functions and the possible $399 price tag makes a compelling case, especially when you consider the retail price in London is significantly higher ($520). Since we see it listed on Office Depot's website, we hope that means a release is imminent.
source:
Office Depot
via
Android Authority