New Galaxy Note 10 leak lists storage count, contradictory battery info
9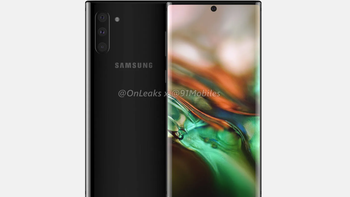 Samsung Galaxy Note 10 Pro CAD-based render
Samsung Galaxy Note 10 leaks are becoming increasingly contradictory, and today is no different as Ishan Agarwal has
revealed
what is allegedly the battery capacity of the Galaxy Note 10 and Note 10 Pro in addition to some other bits of info.
The same size battery in both models, allegedly

Initial rumors pointed towards the presence of a 4,500mAh battery inside the Galaxy Note 10 Pro and a 4,300mAh cell inside the standard model. Later, information provided in a separate report suggested the smaller device would actually feature a 3,400mAh battery. Today's leak, however, implies that both are wrong, although it's worth taking the information with a pinch of salt.

According to the report, both the

Galaxy Note 10

and Galaxy Note 10 Pro, which are referred to internally as Project D2 and D2-X, will arrive equipped with 4,170mAh batteries. These capacities could be possible, but they may also be wrong, and here's why.

Starting with the

Galaxy Note 10 Pro

, the smartphone is expected to be more or less the same size as the Galaxy S10 5G – it's a 0.3mm shorter and 0.3mm wider. The latter includes a huge 4,500mAh battery, but the presence of Samsung's S Pen in the Note 10 Pro naturally means achieving the same capacity is much harder. As recent leaks have revealed, though, the 3.5mm headphone jack is reportedly being removed on Samsung's next-gen flagship, something that should create more room for a battery. In addition to this, switching out the horizontal camera setup for a vertical one positioned in the corner should allow for a taller battery and therefore a higher capacity.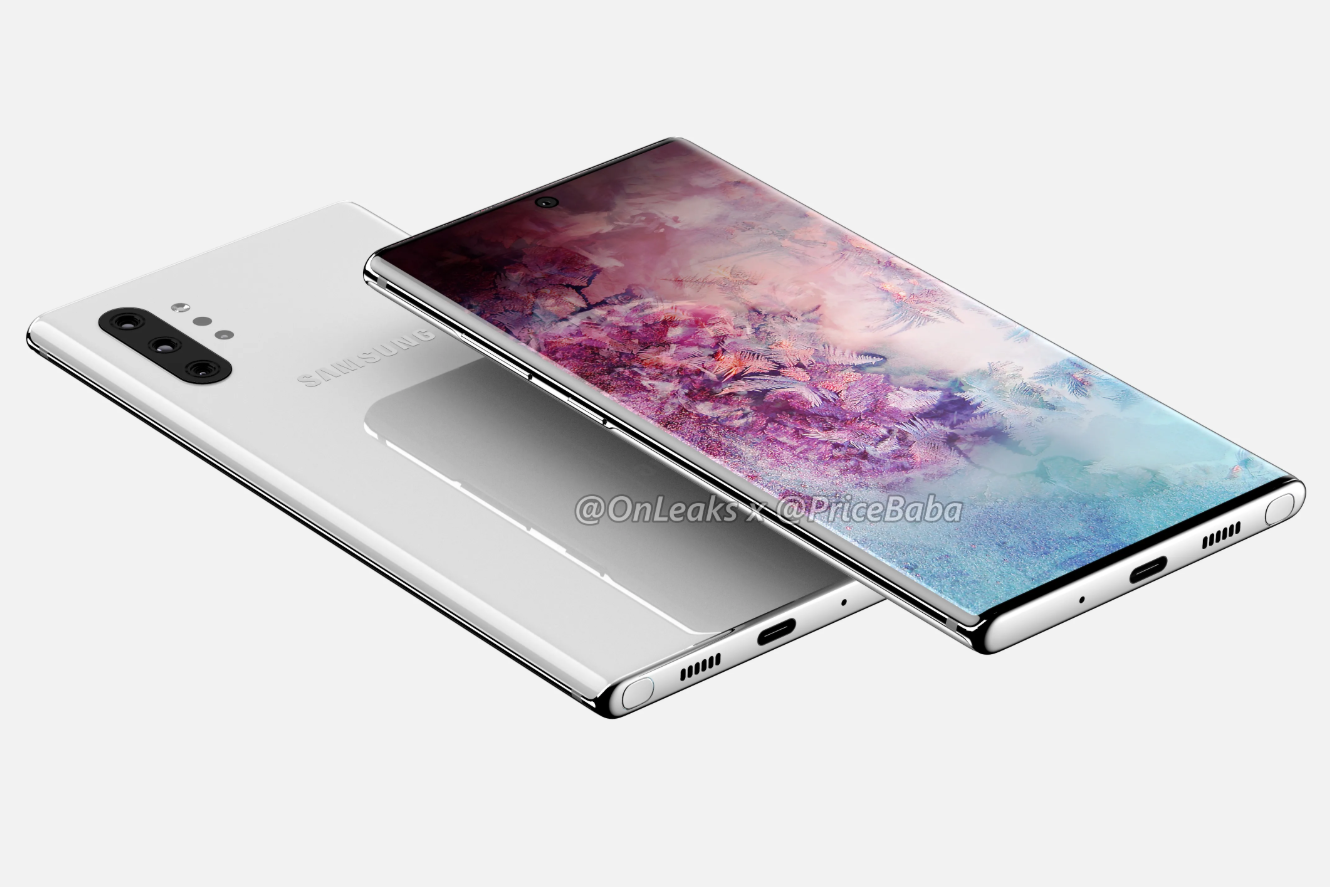 Samsung Galaxy Note 10 Pro CAD-based render
Even if the 4,170mAh capacity for the Galaxy Note 10 Pro turns out to be true, fitting the noticeably smaller Galaxy Note 10 with the exact same cell seems like quite a difficult achievement. After all, the smartphone is expected to be just 1.1mm taller, 1.6mm wider, and 0.1mm thicker than the Galaxy S10, a device that includes a 3,400mAh battery. Like the Pro variant, the Note 10 will ditch the headphone jack and adopt a vertical camera layout, but that's unlikely to offset the presence of Samsung's S Pen and create all the extra space that'd be required.
Lots and lots of internal storage
Moving on to something that does seem more plausible, it's reported that the regular Galaxy Note 10 will launch with 128GB of expandable internal storage. The Pro model, on the other hand, will apparently increase this to an impressive 256GB. Also, if this isn't enough, storage configurations for the larger device will reportedly max out at a whopping 1TB.
Accompanying the storage is expected to be a minimum of 8GB of RAM on both devices and a high-end processor. Specifically, US consumers should receive a Snapdragon 855-powered variant while European users look set to gain access to an Exynos 9825 model. The latter is a new chip Samsung has in development that'll improve upon the performance and efficiency of the Exynos 9820 used inside the Galaxy S10.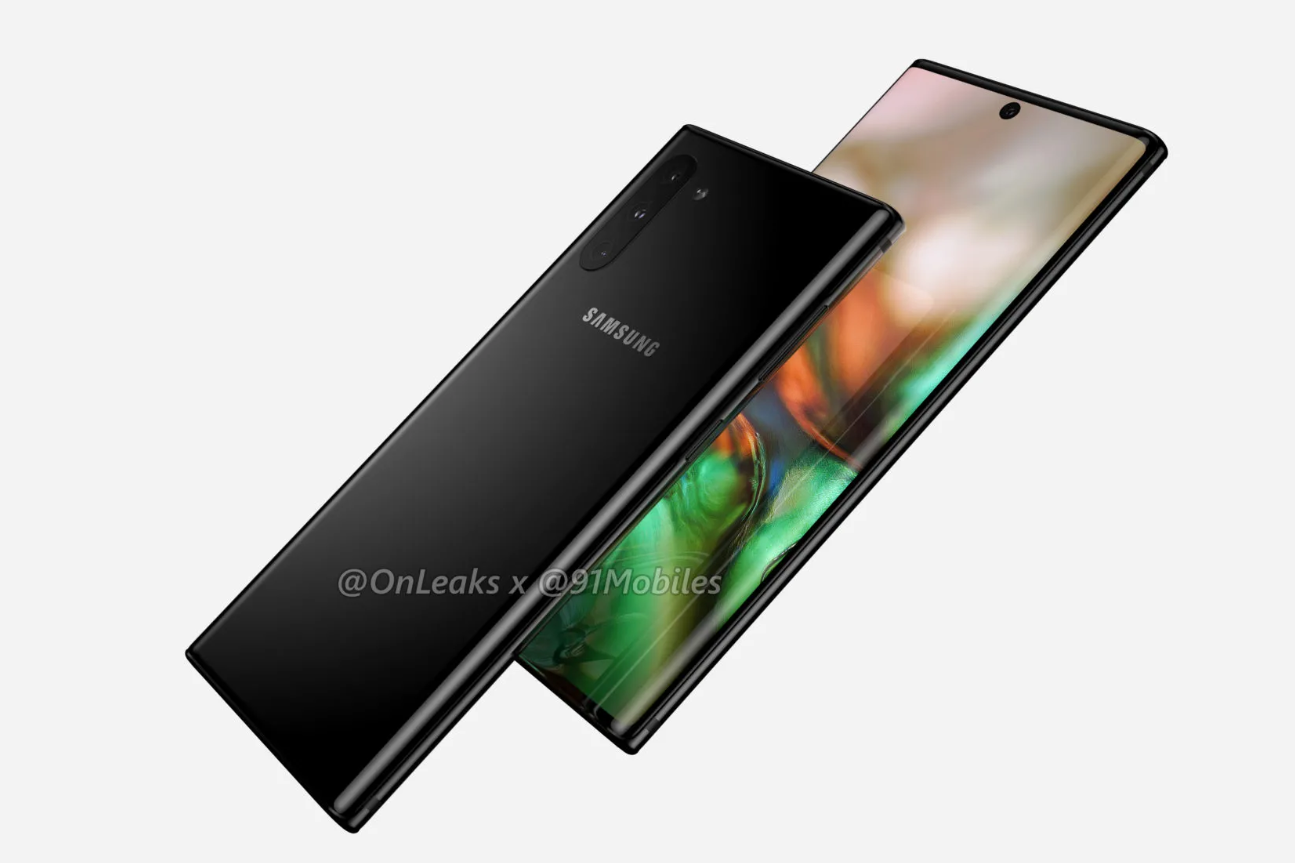 Samsung Galaxy Note 10 Pro CAD-based render
Completing the setups on both devices should be Android 9 Pie paired with the latest version of Samsung's One UI, support for 4G LTE networks, IP68 water and dust resistance, and 25W fast charging in addition to wireless charging and reverse wireless charging, more commonly known as Wireless PowerShare. Also, both models are expected to feature a single selfie snapper while over on the rear there should be a triple-camera setup on both models, with the larger Pro device also inheriting a dedicated Time-of-Flight sensor.