Samsung Galaxy Nexus and ICS announcement: Live Coverage!
99+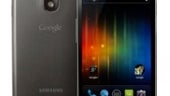 Welcome to our Live Coverage post, dedicated to the official unveiling of the Samsung Galaxy Nexus, and Ice Cream Sandwich - the latest version of the Android operating system by Google. As you might guess, we'll be treating you with up-to-the-minute updates during the course of the event, so that you can be in the know of all that is happening right now over in Hong Kong, where the announcement takes place.
We'll be starting our liveblog around 7:00pm pacific time | 10:00pm eastern time. We expect it to finally bring Google's answer to iOS 5 - Ice Cream Sandwich, a statue of which has already been erected at Google's HQ. Samsung is expected to back it up with the Nexus Prime, a 4.6" technological behemoth with a curved glass display, dual-core processor, LTE and everything else you can imagine save for a built-in coffee machine.