Samsung GT-i8700 is just about ready for an eventual European launch
0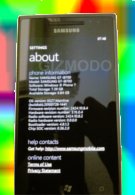 With September winding down to its final days and October just right around the corner, we're surely going to start seeing more Windows Phone 7 smartphones become official as we head closer to an eventual official launch.
Most notably, the
Samsung GT-i8700
managed to silently slip through the cracks of the Global Certification Forum for GSM as it's probably on track for a European launch very soon. Since that there is so much talk regarding Microsoft's next-gen platform going live this month, the handset's recent GCF certification points to its readiness which is generally found to be ready for sale in a matter of a few weeks after receiving its certification.
North American consumers will have to wait on the sidelines for this once since this smartphone only packs support for 3G on the 900/1900/2100 MHz bands. Regardless, Europeans all around will undoubtedly be ready to check this one out once it makes itself presentable on store shelves.
via
The Unwired