Samsung Developer Conference 2018 early bird registrations go live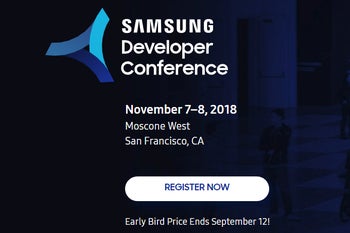 Samsung announced last month that its annual Developer Conference will take place in San Franciso, CA between November 7-8. Starting today, all developers who would like to attend will benefit from early bird registration until September 12.
With the special early bird registration discount attendees will be offered exclusive discounted pricing for about a month. Early bird costs $299, but starting September 13 tickets price will increase to $399. Also, those who decide to purchase tickets on the first day of the conference, November 7, will have to come up with $499 upfront.
This year's Samsung Developer Conference will focus on Bixby, virtual reality and augmented reality, as well as tech innovations. Attendees will get the chance to meet Bixby technologists, learn how to optimize games and mobile AR/VR apps for Galaxy smartphones, and have a peek at what Samsung's plans for the future.
If none of the above are up your alley, you can always engage with fellow developers and creators in the industry, and grow your network while at it.