Samsung ATIV S gets its 3 minutes of Windows Phone 8 fame at last in a hands-on video
33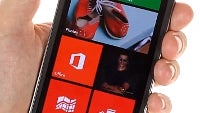 The
Samsung ATIV S
has been the most elusive of the newly announced Windows Pone 8 devices, as the Koreans mostly kept it under wraps during the announcement, and we haven't seen much of it since.
That was explicable, since Microsoft has restricted manufacturers from showing off what is a still-unfinished WP8 version, and it was the first device with the updated mobile OS announced.
October 29
is fast approaching, though, when Windows Phone 8 will be made official with all its features, so we can expect more and more leaks and previews in the next two weeks.
Yesterday
we saw the Lumia 920 handled
and its interface demonstrated thoroughly for 12 minutes, and today is the Samsung ATIV S turn for 15 minutes of WP8 fame. Have a look at Samsung's Windows Phone pride and joy in the brief hands-on video below.