Get your daily Lumia 920 fix: interface hands-on, ploycarbonate shell scratch test and OIS demo
29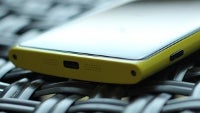 There are more and more details coming every day about the
Lumia 920
, and thankfully a lot of them are now in a video format, so we can get a better glimpse at the innovation packed in this handset.
First off, we have a video from France, which goes on an epic 12 minutes hands-on of the device, touring around the interface in detail like never before, shows nifty usage scenarios for the NFC tag capability, and demonstrates what a differences the PureMotion HD+ screen makes for small text clarity.
Afterwards comes a video where the polycarbonate shell of the Lumia 920 gets dragged around a desk, and rubbed against a bunch of coins, like the ones you might carry in your pocket - to the delight of the user, the three colored versions they used didn't show any visible damage.
We also get a demo of the optical image stabilization that the 8MP PureView camera has, with the tester showing how shaky the image on the screen is until you half-press the camera button, and the camera suspension mechanism kicks in to steady things up.
Recommended Stories