Rogers unofficially confirms the Sony Ericsson Xperia X10 mini & mini pro
This article contains unofficial information.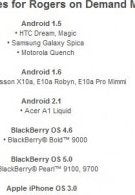 Rogers customers can sit pretty knowing that the latest Xperia X10 Android powered smartphones will be making its way to the carrier some time in the future. It would've only been natural to see the mobile carrier to receive both the
Sony Ericsson Xperia X10 mini and X10 mini pro
after being the first in North America to be graced with the original device. We'd imagine that most carriers would go bonkers knowing that they've accidentally confirmed upcoming devices, but that's exactly the situation Rogers finds themselves in. Apparently the Rogers on Demand mobile (ROD Mobile) app page contains a special surprise to anyone who likes solving mysteries. In a pop up windows that displays compatible devices for it, there are two distinct handsets that stick out after the Sony Ericsson Xperia X10 as being Android 1.6 handsets that will be compatible with Rogers on Demand mobile. Sherlock Holmes won't even break a sweat trying to solve what exactly are the Sony Ericsson E10a Robyn and Sony Ericsson E10a Pro Mimmi – both of which aren't currently offered by the carrier obviously. The only logical explanation can be assumed at this point, but Rogers is probably thinking how this kind of things happened in the first place.
Sony Ericsson Xperia X10 mini Specifications
|
Review
Sony Ericsson Xperia X10 mini pro Specifications
via
AndroidGuys